Clearly there are a lot of of Canadians who do not understand a few simple words of English . . .like,
"Stay home!"
"Do not go shopping"
"Stay in isolation for 14 days!"
"It's the LAW".
And the rest of us need protection from these selfish louts.
So how about we go back to a warning system that worked long ago . . . It worked before. Let's give it a try now.
Remember when you saw these signs on the front doors of the infected: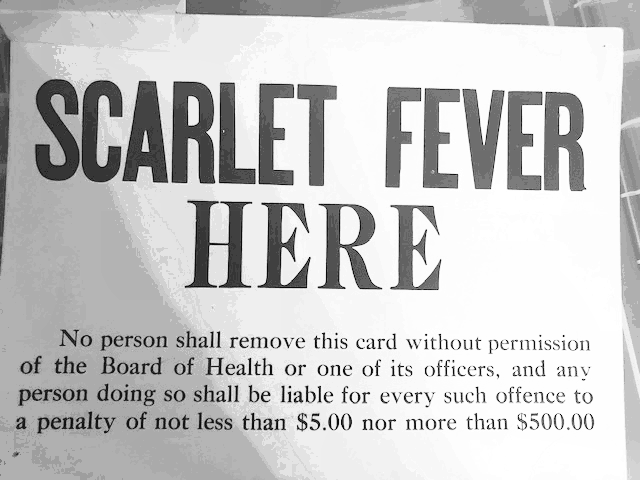 These signs didn't come down until you had a note from your doctor certifying that he had seen you and you were fine for removal from quarantine.
Such signage would at the very least, tell neighbours who should not be out and about. If the person in that unit does not understand their responsibilities or doesn't care, then at least the neighbours can protect themselves. They can even warn the authorities of the stubborn idiots who insist on their right to roam far exceed the safety of their neighbours.
If we are going to beat this curse, then we need to be able to protect ourselves from the indifference of the few who continue to put society at risk. We are paying dearly in jobs, health, mental wellbeing, savings, the debt we are building for our grandchildren to pay off . . . and we will be paying well into the future in so many ways for the coronavirus plague.
Get the signs up.
Give them a copy at the airport and tell them to put it on their front door as soon as they get home. Warn that an inspector will be by to make sure it is there within the next 24-hours.
If they ignore those instructions, trust me, they are not going to be observing anything else, so put them into a secure isolation.
Make an example of those who refuse to care for themselves or others.
Only this way will the great majority of law-abiding Canadians be protected.
Whether it is fines for those gathering in the dog parks or those who are determined to continue shooting hoops or just don't care about anyone other than themselves: governments, DO SOMETHING!
Hopefully, public shame is one of the tools to use for those who disregard the impact their travels or symptoms can have on the innocents who come within their pestilent field, in those cases, the authorities need to act swiftly and mercilessly.
We deserve better than the politically correct protection of personal information that is impeding our ability to protect ourselves.
Give us the tools we need to know who to avoid and who to report if they are walking down the street!
GET UP THOSE SIGNS!