Maggie Toner has lived a widely varied life, working at everything from clerical work to dog grooming and working at Michael's Craft Store. But thirty years was spent as a professional accountant for both large and small companies. She finally created a company using her beloved draft horses for hauling a carriage for weddings and special events, and for Cosplay photography. She lives with her husband and mother-in-law, her dog, two cats and four horses near Canada's capital of Ottawa.
Maggie has set us in a couple of story excerpts from her book from the Canadian portion...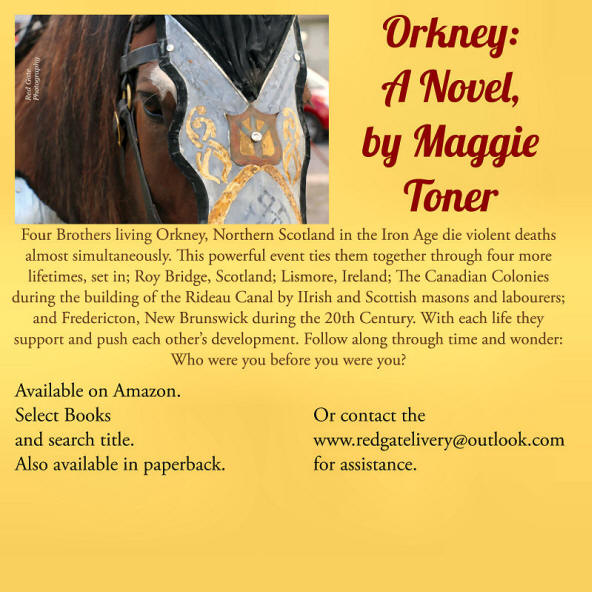 The book is about Four Brothers living in Orkney, Northern Scotland in the Iron Age who die violent deaths almost simultaneously. This powerful event ties them together through four more lifetimes, set in; Roy Bridge, Scotland; Lismore, Ireland; The Canadian Colonies during the building of the Rideau Canal by Irish and Scottish masons and labourers; and Fredericton, New Brunswick during the 20th Century. With each life they support and push each others development. Follow along through time and wonder: Who were you before you were you?
Excerpt 1:
As we rode, I asked Sherrif to tell me about himself, to pass the time. He rode ahead of me and as he spoke I watched the brown hair that curled out from under the brim of his hat. At our meeting, I had been impressed with how handsome he was. He was the sort of man that all men really want to be: confident, charming, but with an abundance of common sense.
He told me he had walked for two weeks to get to the port of Leith, and there he had bought passage in steerage on a Brig named Skum. He said he chose it because it meant the foam of the sea, and he liked that. He said he arrived in Quebec City on May 18, 1820. I laughed and told him I had arrived on nearly the same date but in 1828.
He disembarked at Quebec, and started working odd jobs, sometimes two or three at a time. He was a horse groom for a wealthy Frenchman, he cleaned latrines, and he cut down trees. But then he happened on a job with a stonemason. There he learned the masonís trade. He proved a quick study and when the old man died, he worked his way west and to Kingston. There he met Haggart, his partner who hailed from Perth. For my enlightenment, he explained that Perth was on a river system that fed back up from the Rideau River.
His story told me a great deal about him. He was ambitious, in the way that people believe ambition is a virtue and an aim in itself. It was clear to me that he was honorable, but only as honorable as would fit between the narrow confines of his values. Anyone who did not share those values simply did not merit consideration. He reminded me of someone, but I couldnít identify who. Perhaps it was someone from home.
Excerpt 2:
The stone for the weir and the lock came from the quarry down the same road we had travelled to see the farmers. It ran up past the farms and across the main path to Kingston, such as it was. The blocks were rough-hewn there and brought down to our work site by oxen. Masons then refined the shape of the blocks. The big Shire horse lifted the block using a block and tackle, and the block was laid in its place in the wall being constructed. At the moment, that construction was focused on the construction of the weir, which had just begun and would take the better part of a year and a half.
The weir was an overflow channel to run to on one side of the lock. In the spring, the lock might be overrun by ice and flotsam, and so the weir was provided to lower the level behind the lock when necessary. It would be completed first to accommodate the flow of water while the lock itself was being built.
On the day after Sherrif left, I was in camp rather than out on patrol so I saw my first delivery of blocks by oxen pulling a big heavy wagon. Oxen were used because they were more powerful than and not as valuable as horses. There were fifteen or twenty small and five large blocks on the wagon, and they were lifted off with the help of the big gelding. For him this was easy work, but it was an invaluable aid to the men who were moving the stones. Small ones they could do on their own, but some of the large stones were two feet wide and high by three deep. These were the head stones that buttressed the oncoming water where it would split between the weir and the lock. I helped with the unloading and setting the stones to be fine milled. By the end of the day, I was exhausted.
Over coffee the next morning, Willow and I were devouring another excellent scone and Haggart sat looking pensive. "Have you ever thought of getting married?" he said.
I looked at him in surprise and said "I was very nearly engaged once, but it didnít work out. You?"
"Aye, there is a girl I like the looks of. Sheís bonny for sure. Sheís clever too, and sensible. A good seamstress. And she has a real green thumb. She is very young, but I donít think thatís an impediment."
"Are you looking for a bride or hiring a housekeeper!" I responded.
"Well I think itís important to be detached from these things. I want to build the best foundation, you know. I want children and a productive life. I want to build those things with someone who shares my outlook."
I looked at him. "I suppose, if you are building a dynasty." I thought of my own parents when I said this. I was sometimes surprised they had ever managed to produce children, so distanced were they from one another.
In the evening it was still terribly hot. I took Willow to the laundry with me, where I washed my shirt and gave her a cool bath as well. Out of the dusk came a man on horseback. I stood there with my naked chest and looked at him in surprise.
"Iím looking for Mr. Haggart sir." His face was sweaty, and although he should have been red in the face from the warmth, he was white as a sheet. As I stood there looking at him, he fell from his horse.
I shouted and three soldiers ran to my aid. We freed one of the shanties and turned it into an infirmary, since the man was obviously ill. Haggart having been summoned was there quickly. He touched the man on the shoulder and asked "You have a message for me?"
The man rolled his eyes in Haggartís direction and said "Itís Sherrif sir."
"What about Sherrif?"
"Heís dead sir." And with that the man became unconscious. He died three days later.
Haggart was utterly thunderstruck. Why Sherrif had been taken so quickly was a mystery, but there were prior stories about men merely canoeing through certain lakes and becoming deathly ill. It didnít matter to Haggart. He settled into a dark mood that lasted for weeks.
And so began our first "sickly season". 1 Men began almost to drop in their tracks. They suffered aches and pains and fever, feeling cold and sometimes shaking. But that is where the similarity ended. If a man had any pre-existing illness, a cold, a toothache, any kind of infection, the fever made it worse. Most recovered, but some did not. We tried to bury them as fast as we could, because we did not know how the malaise was spread. There was a small burying ground up the hill where Chaffee and a small group of others were buried. We used pieces of stone from the works to serve as head and foot stones, and we buried several in one grave.
1 http://www.rideau-info.com/canal/history/hist-canal.html
We placed wooden crosses with the names of those buried. There are those who have come after who assert that we simply dumped them in the ground and did nothing to mark their passing. They are wrong. Itís just that the wooden crosses, like the people whose lives they commemorated, eventually wasted away and became dust.
At the worst of it, there were only three or four men well enough to care for the sick. Mrs. Chaffee cared for the sick as well, stopping only to be sick herself for four days, and to recover her strength for a week. Her baby, fortunately, did not get sick.
Haggart, at a loss as he was with the death of his friend and partner, barely functioned for a few days and then became sick himself. I feared he might not rally, but then I was finally able to feed him a thin soup. Within a week he was up and visiting the sick, administering water and soup. Fortunately we had not much rain during the month of August, and the ill could be moved outside to enjoy the fresh air while they recovered.
I was very lucky. Whether because of my relative youth, my fitness or my strength, although I did get sick, I recovered within three days, and regained my strength rapidly afterwards.
By the end of August, the men were back to work and Haggart and I were able to take stock of our supplies and the men we had left to feed.
Haggartís men dug the trenches where the water would flow with pickaxes and shovels. The stone and slag they dug up was carried away in a wooden wheelbarrow and emptied into a stone boat hitched to the horses. When it was full the load would be towed away and emptied onto a part of the bank being built up for docks. This was backbreaking work, and Haggart exhorted his men to ever greater heights of productivity with his own enthusiasm, and with occasional treats he cooked on his fire and in a makeshift oven as reward. His talent for efficiency and enthusiasm were known throughout the canal works, until Chaffeeís was simply referred to as "Haggartís Job". 2
2. http://www.rideau-info.com/canal/history/locks/h37-chaffeys.html
Kindle edition $5.99 available on Amazon.
Paperback $13.59
Contact: https://www.facebook.com/Redgatelivery/