As I've been travelling around Ontario looking for a house I have been using the VIA trains to get to the various locations. The neat thing is that you can book your ticket on the web at their web site www.via.ca. There is a booking form where you simply enter the station you wish to go to... select whether you want a morning, afternoon or evening or any time departure and then do the same for the destination station. It will then come up with the various options for you and you can then book online. You will get an email confirmation which you simply print out and take with you to the station. Present that at the ticket counter and they will issue you with your ticket.
You usually get a choice of "comfort class" or "VIA 1" which is first class. I've travelled on both classes and in both have found cheerful staff to look after you. In comfort class you get a choice of snacks with coffee, tea, soft drinks, alcholic beverages as well as sandwiches and other cold snacks which you pay for. In first class you get a hot meal and drinks all of which are free within the price of your ticket. I noted in Toronto you also get use of the first class lounge where there are complimentary drinks and newspaper while you wait.
On the whole the trains run mostly to time and I certainly found departures on time but arrivals were generally a wee bit late.
On first class you get a powerpoint for your laptop computer which is certainly very useful for those long train rides.
Today as I returned from a visit to Brockville I was given a tray of chocolate sweets as I left the carriage. I think that was due to my enthusiastic response to the chocolate buzz and very nice is was of them as well :-)
So all in all I have certainly found the trains to be clean and comfortable in both classes and in each friendly staff that really do take service as a by word.
I might just add that my trip today has found me a house in a place called Iroquois which is on the St. Lawrence river about a 45 minute drive from Ottawa and 1.45 minute drive to Montreal and thus close to the Quebec border. Brockville, the nearest large town is around 20 minutes drive and the train takes around 3 hours 30 mins to get to Toronto. Of course right across the St. Lawrence river can be found New York, USA :-)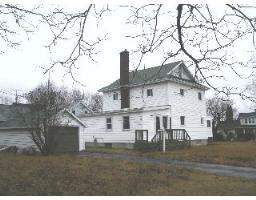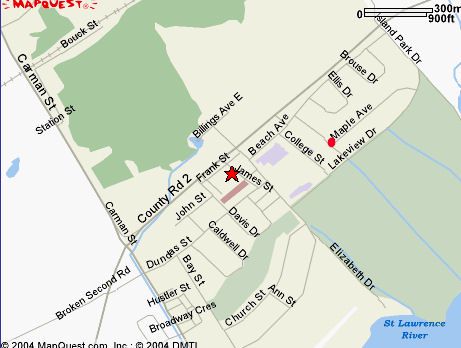 Note the red dot (not the star) and that is where the house is. It looks over the park and golf course to the St. Lawrence river. There is both cable Internet and Fibre Internet available in the town and there is a small shopping mall but main shopping is only 20 minutes away by car at Brockville.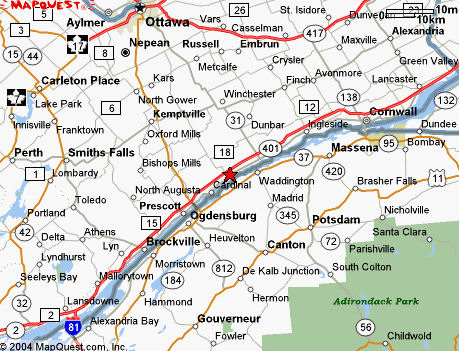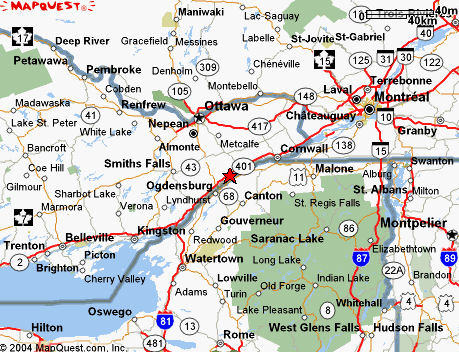 And these other maps show the surrounding area
I might also add that while in Sarnia I was ably assisted by Scott Broad who did his very best to find me a suitable home and went to the trouble of picking me up from the railway station and driving me around. So if you are looking for a house in that area be sure to contact him.