Been a busy time one way or another since my last report. I was surprised at receiving my Ontario Health Card so quickly but in it came with yet another photograph of my balding head :-) As I am here on a work permit it does expire at the same time as my work permit. However if my work permit is extended then I just need to contact them, as with all the other organisations, and they'll issue a new card.
I have been looking for a used car as it is time to make decisions seeing that my house purchase will be through at the end of this month. I figured a car costing around CAN$12,000 or thereabouts would get me a monthly payment of around $350.00. As always in Canada if you don't have a credit history then you are going to have to pay well over the odds to get finance but it can be done. I've been fortunate in finding someone to be a co-signatory and so can enjoy much better interest rates.
I was looking at a Ford Focus and was told that a new wagon (estate) version of the car could be leased for 3 years at the rate of $368.00 a month with a 20,000k a year rating. What this means is if I go over 20,000k in any year then I have to pay an additional 8 cents a mile. Other than that all costs for servicing and maintenance are in that price and it's 0 down and price includes tax. You do of course need to find car insurance.
You should note that 15% tax is paid on cars in Ontario.
On the car insurance front as a new arrival in Canada you should make sure you bring your old policy from your own country as that will get you a discount as otherwise you will be treated as a new driver.
I have also been looking at Buick models... I find I can get a 2000 LeSabre or Regal LS with between 64,000 and 92,000 kilometers on the clock for around the same price as I can lease a new Ford Focus. With a used car you can do finance or lease and I was told that after 6 months worth of payments you will then have a credit history in Canada. It takes the banks 2 years before they give you a credit history so this is a good way to go. Often lease deals can be done so that by the end of the term you will own the car and so the kilometer limited will not apply. Usually in-house leasing with the larger car dealers is cheaper than you can obtain elsewhere.
I was advised that if buying second hand to look at taking out extra warranty on the power train as that costs a lot to get fixed. Buying a newer used car will often mean you can use any outstanding warranty on the car.
In a previous update I did mention that a lot of Canadians keep there cars 8 - 10 years and so these larger American cars can take that type of use and up towards 200,000k quite easily. Cars in Canada are usually winterised meaning you often get heated drivers seat and a block heater. Essentially you plug the block heater in to keep the oil at normal temperature when in winter it can get down to 30 or more degrees of frost.
I do find that in the winter in Canada most people pay a lot of attention to the weather forecasts :-)
You also want to check if the car uses regular petrol or premium as the price difference is significant if you do a lot of miles.
I guess like any other country buying second hand is a bit of a lottery but some used car dealers will offer some warranty, usually 30 to 90 days depending on where you go.
Being new to Canada I was also interested in what one of those GPS navigation systems would cost and was surprised when told they could be got for around $400 from Radio Shack and one dealer said they'd fit them free if you brought it along. Mind you another had a system around $3,300 with lots of bells and whistles so lots of choice.
Should you become a member of the CAA (Canadian Automobile Association) you can get free maps of various parts of Canada. I note also that my Rogers mobile phone will give you roadside assistance anywhere in Canada and the USA for a $5.00 a month charge. This goes with the phone so as long as that is with you you'll be ok. It also means if you lent your phone to a friend when they drive your car then they are also covered as the key to this is the phone and not the person.
I noted with interest that all newer cars in Canada have a small see through window near the outside front windscreen that shows the car serial number. This way it makes it easy for the police to check the owner of the car. I hadn't noticed that before but now that it's been pointed out to me I see it all the time. Not sure when this was brought in but sounds like a good idea to me.
Instead of "used cars" you often see the term "pre-owned cars" and often here in Canada you can get a full service history of the car to examine. For example the one at RoyFoss I am interested in has low mileage and was purchased new from them and also maintained by them and so it has a full service history.
Web sites you can check for "used cars" in Toronto are...
Roy Foss GM Dealer | Addison on Bay Ltd. | Cruickshank Ford Lincoln
I visited all three and they all provided very good sales service and advice. On balance I liked the Roy Foss dealer the best as I feel he gave the best advice and also responded to an email I sent him whereas the others didn't. His name is Nick Bojovich and you can reach him at nbojovitch@royfoss.com or at 1 888 733 3677.
The car I am buying is ...
| | | | | | |
| --- | --- | --- | --- | --- | --- |
| 2000 | BUICK | REGAL LS | 63,690km | DARK GREEN | GRAY LEATHER |
It comes with...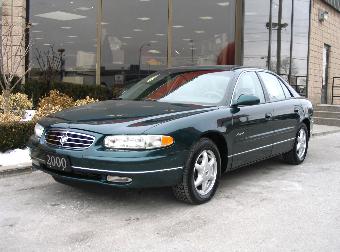 A/C WITH CLIMATE CONTROL, ANTI-LOCK BRAKES (ABS), BLOCK HEATER, BODY SIDE MOULDINGS, BUCKET SEATS, CARGO NET, CHROME EXTERIOR TRIM, COLOUR KEYED BUMPERS, CONVENTIONAL SPARE TIRE, CRUISE CONTROL, CUP HOLDER(S), DIGITAL CLOCK. DUAL AIR BAGS (SRS), DUAL MIRRORS, FACTORY ALLOY RIMS, FLOOR CONSOLE, FLOOR MATS, FOG LAMPS, FOLD DOWN SPLIT REAR SEAT, FRONT WHEEL DRIVE, HEATED SEAT(S), INSTRUMENT CLUSTER W/TACH, INTERMITTENT WIPERS, LEATHER INTERIOR, LEATHER WRAPPED STEERING WHEEL, MAP LIGHTS, POWER ADJUSTABLE SEAT(S), POWER DOOR LOCKS, POWER MIRROR(S), POWER SUNROOF, POWER WINDOWS, PREMIUM SOUND SYSTEM WITH CD, CASSETTE AND RADIO, REAR WINDOW DEFOGGER, SIDE AIR BAG(S), TILT STEERING, TRACTION CONTROL, VANITY MIRROR(S).
To keep my payments lowish I have taken out a 4 year lease which buys it outright at the end of the term. Built into the price is extended warranty on most things that can go wrong and so only need to pay for normal servicing over that term. For example the power train is covered, air conditioning, etc. In one review they said that the engine will go on for ever even if the car fell apart around it. It was also built in the Oshawa (not sure if I spelt that correctly) plant which I'm told has always been rated in the top 3 of all auto plants in the world including Japan. So I am hoping this car will last well for me. My last car in the UK was a Mazda 626 which I had for 10 years and the way it was working I felt it could have gone another 10 years no problem. Hopefully this one will do just as well. While the car does have a 200-hp, 3.8-liter V-6 engine it does use regular fuel.
I found a good site at cars.com where you can get full specifications of the car you are interested in purchasing together with a review of the car.