On the 17th February I headed for Windsor where I would be staying overnight before heading to Detroit for the immigration seminar the next morning. Before heading off Harold was checking into things for me to ensure all went well on the trip...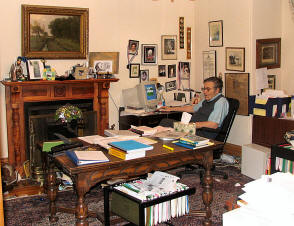 When I got to the Hilton Hotel in Windsor there was a great view over the river to Detroit so I took a few pictures...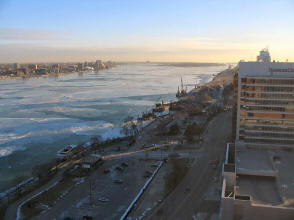 You can see pictures on the evening of 17th and then a night time picture and then in the morning when ice was on the river
That evening I had a very nice dinner with Elan who is with Immigration in Ontario and he was going to give a talk at the seminar about coming to Ontario.
In the morning I was picked up by Dennis Penlin who is in charge of Economic Development for the country of Windsor. He would be giving a talk at the seminar. As usual we were stopped at the US Border but as I was the holder of a UK Passport we had to go into the immigration office. I understand that usually if you are a Canadian passport holder they just wave you through.
And so it was into the immigration office where I had to complete a form, get my picture taken and finger prints taken as well. After which I had to pay $6.00 for all that which Dennis kindly paid as I didn't have any US dollars with me. Mind you they would have taken a visa card so would have been ok.
And then it was into the center where the seminar took place. There seemed to be around 150 people attending so a good turn out. We got a presentation about Ontario and Canada and then a presentation about the Windsor area and finally a talk about the immigration process. The last was useful as they did tell you what you needed to do. For example they say if you are asked to prove something then make sure you prove it to them in the application otherwise this will just delay matters as they will need to write back to you asking for clarification.
Because we had attended this seminar we were given a form which confirmed we had attended and were told to make sure that was on top of the application as it would mean we'd get the opportunity of being fast tracked although this wasn't guaranteed.
And so it is now down to me to get the immigration application started which means getting hold of copies of my educational qualifications from the UK as well as a police report. I dare say I'll be phoning to get clarification on a couple of points but we'll see how it goes.
I also met the woman who had got me my work permit for Canada and very nice she was too. In fact everyone was very helpful and they stated that they aimed to bring in I think it was 3 million immigrants into Canada in a 10 year period and they are on track for this target. Like the UK the Canadians have a declining population and they see immigration of skilled workers as a genuine way to help the country. Generally the bulk of the immigrants are coming from China and the Indian sub continent but there are also others from Africa and other parts of the world. They say that over 100 languages are spoken in Toronto.
I personally feel that Scotland should send over people to Canada to talk to the immigration folk here to understand how they are going through this whole process as Scotland also needs to attract new people. In my view Canada is really dealing with this in a very professional and helpful manner.
And so it was time to head back to Canada and Windsor and I got my lift back and was dropped of at the VIA rail station... via Tim Horton's for a coffee! :-)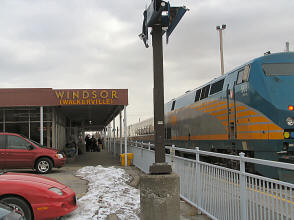 VIA Train Station in Windsor. The woman in the above picture was being photographed and looked frozen as she dashed back into the station to get warmed up. Don't know who she was though.
I was stopping off at Chatham on the way back where I was meeting Nola and George to have a look at a few houses in Ridgetown and Glencoe. The houses in Ridgetown were not suitable but the house in Glencoe looked good from the outside but as we'd arrived late we couldn't get into the house to see the inside. So... have arranged for George to go in for me next week and let me know what he thinks... so may well be back there next week myself.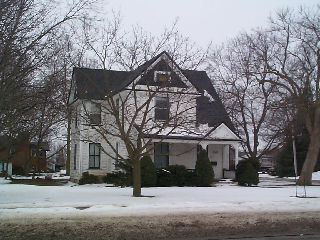 This is the house in Glencoe I'm interested in
Actually Glencoe seems to be a very nice wee town with I think some 3,200 residents. They have a couple of good food stores, a No Frills and an IGA, a good petrol station, couple of restuarants, a bar, Legion club and sundry other small retail stores and four churches. The Village of Glencoe was 125 years old in 1998.
I might just add that finding out if you can get hi-speed Internet access is problematic. In fact I'd say it's downright ridiculous. I was on the Bell Canada web site and entered a phone number of a premises in Glencoe and it indicated that hi-speed was available. I say indicated as there was some text that suggested I might need to check further. I then tried to phone Bell to get a definate answer and spend ages on their stupid phone system before I got to talk to someone and they couldn't help. I ended up trying their form to submit a support request. I did get an acknowledgement and a phone number so phoned the number. Got through to a customer support person and when I gave him the address he said that hi-speed Internet was available in the area but couldn't guarantee it would be available for the house. His best suggestion was to go knock on neighbours doors until I found someone that had hi-speed. To be frank I feel this is the most ridiculous situation. There must be thousands of people buying new homes every month and you're being told to knock on people's doors to find out if you can get hi-speed access. The powers that be in Bell must be brain dead. I would say if you have any choice at all do not use this totally useless organisation. And yes I am most irritated.