Seeing it is now Monday 7th March I figured I needed to do an update on my journal before I forget what I've been doing.
I finally got my car on Saturday 5th March. A Buick Regal LS, Year 2000, with 64,456k on the clock. Rides well and so far am pleased with the purchase although you do need a good half hours training course to learn all the instruments :-) They couldn't find the spare key and so will be heading back there around next weekend to get a new key from them together with an ashtray and cigar lighter. Seems the last owner didn't smoke so removed those items.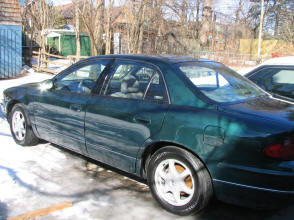 Should also note that today Verity... Harold and Nola's daughter... gave birth to a brand new baby girl and so many congratulations to Verity and Alex and that's a wee sister for Ella :-)
Also made a decision to purchase that house in Raleigh Street in Chatham so have emailed Austin, the realtor, to put in a bid for it. Here are a big collection of pictures of the house for you to see... if I'm fortunate in purchasing it they will be a wee reminder to me how it looked at the time :-)
Of course if you have any suggestions on how I might use the large basement and attic I'm all ears!
167 Raleigh St.
Chatham
Ontario
N7M 2W4
Canada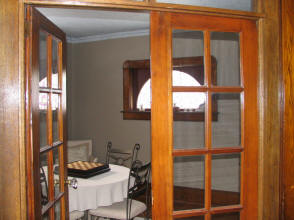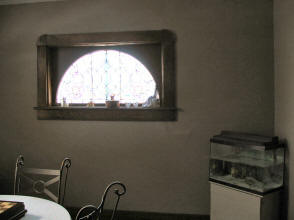 This is the Dining room but it's actually larger than the Living room so would intent to use it as the Living room. Got some stained glass in the windows.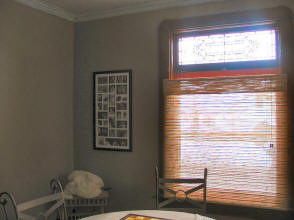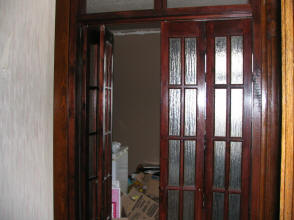 Wee bit of a weird door which leads into what I think will be the library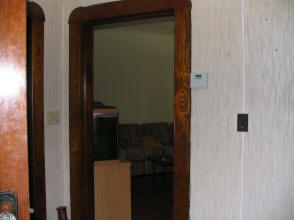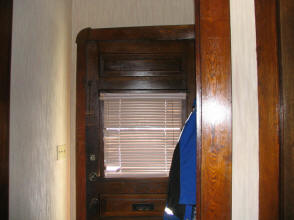 There is a short hallway into the house from outside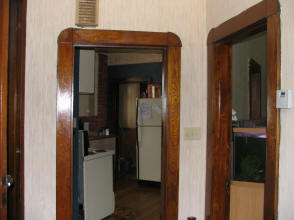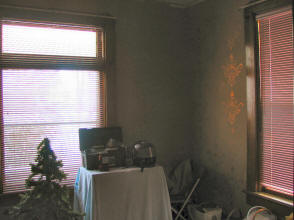 From the hallway and foyer you have access to all the rooms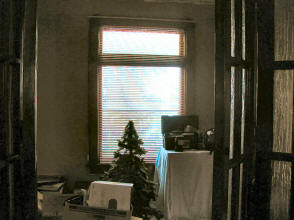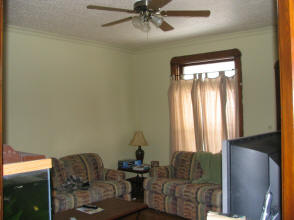 Room on right is the current living room which I might make the Dining room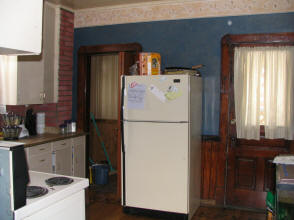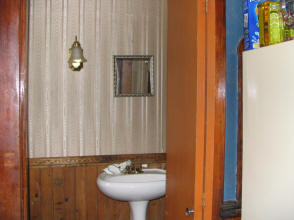 Kitchen with 2 peace toilet on the left of the fridge. Back door into garden to the right of the fridge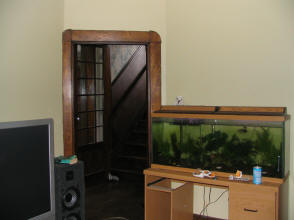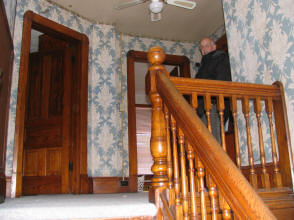 Stairs leading up to first floor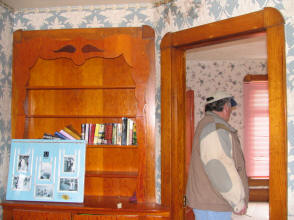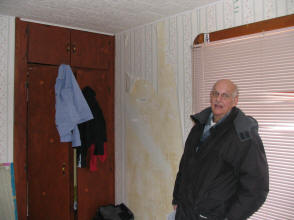 That's George Moulson the builder on the left and Austin Hockin the realtor on the right. Kind of foyer leading into the three bedrooms and bathroom and also to the attic.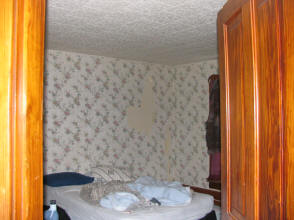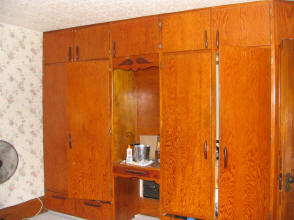 Master bedroom with built in wardrobe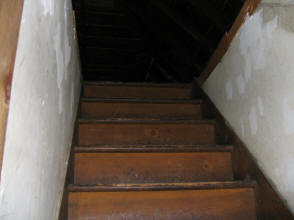 And now leading stairs leading up to floored attic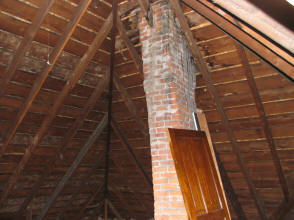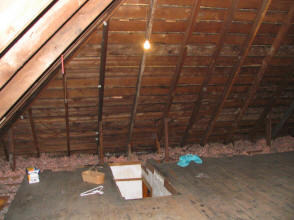 Seems quite a large space... wonder what I can do with this?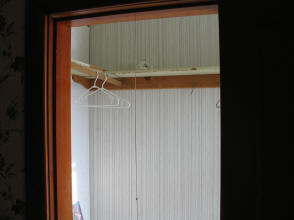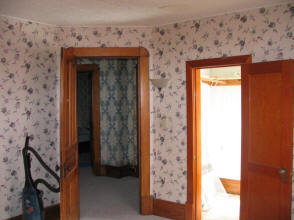 First guest bedroom which I plan to make the office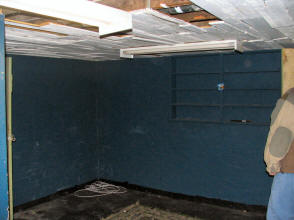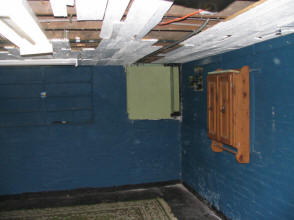 Again some good space down here... wonder if I could fit in a pool table? :-)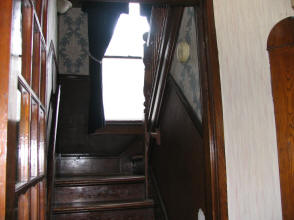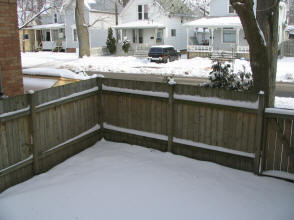 And now up from the basement and a look at the outside. Nice wee garden at the back.. wonder what the snow is covering? Anyway.. not too much lawn to mow hopefully :-)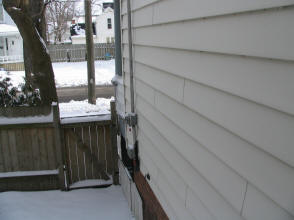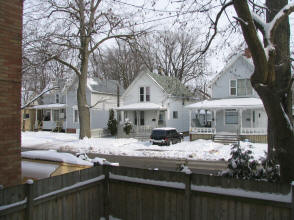 Siding looks ok... and a view of the neighbours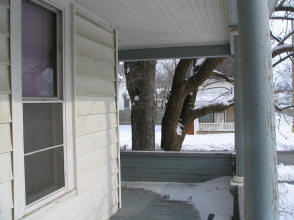 Door from current living room takes you out to the porch which is on two sides of the house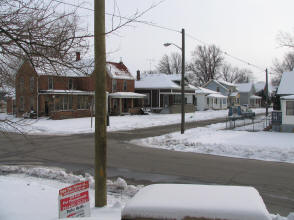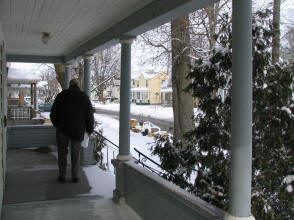 Wee bit of work needing done to the porch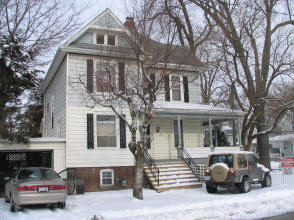 And that's the outside with a wee garage alongside
Rough estimate is that I would only need to spend around $5000 for a few bits that need fixed up plus some decorating. It's also just a couple of blocks from shopping and very near the centre of town with all the main shopping malls. There is also a Wal-Mart in town along with a Sears department store, No Frills, Solebys, Canadian Tyre, etc. It also has a main railway station which gets me into Toronto. I believe it's also around 45 mins to the USA border and Detroit.
Chatham is in the Municipality of Chatham Kent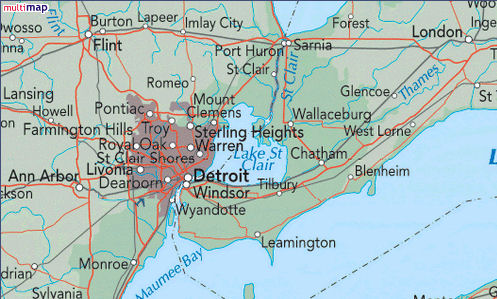 Map of the area
Stop Press: My offer of $75,000 was accepted on 10th March 2005
Don't know if I mentioned it before but here in Canada all prices are displayed ex-tax. I only mention this as back in the UK prices are normally displayed including tax and so if you are used to that arrangement you might get a fright when you get your bill.
As I'm now a Director of the Scottish Studies Society here in Toronto I have been designated to get the invites and flyers organised and printed. A new responsibility but at least I've managed to get an online order form organised.