On Tuesday 5th April I attended the Tartan Day Dinner at Casa Loma in Toronto where I met the Lieutenant Governor and sundry other folk including my old friends Doug and Pat Ross. A fine evening was had by all.
I completed my house purchase on 7th April 2005. I had gone down the night before to stay at Nola's country cottage at Port Crewe...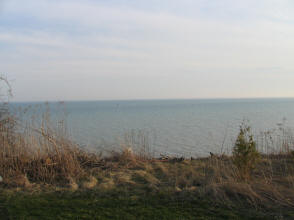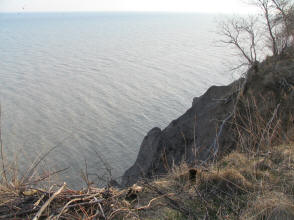 As you can see the cottage in on Lake Eire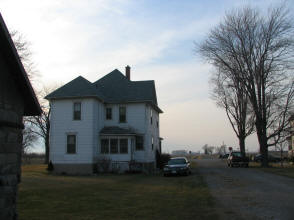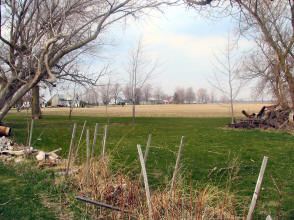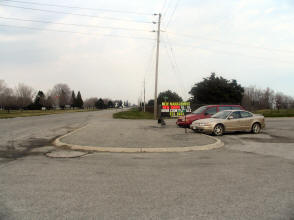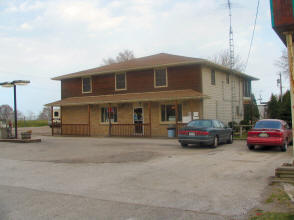 This is a good place to have a meal just up the road from Port Crewe
It took around 4 hours to get down there from Toronto as there were road works on the 401 and so long delays for part of the trip but once past that had made good time.
Having completed the paper work I then met George (my builder and decorator) at the house where we changed the locks... not that there is anything worth stealing. We then worked out the plan for the house and then it was time to head back to Port Crewe for the second night.
In the morning I headed to Wallaceburg where I had arranged to visit Tom and Al's furniture shop where I purchased 3 beds (1 queen and 2 single), fridge, cooker, microwave, TV and DVD and a chair besides other small items. It's a long time since I purchased a bed and was a touch confused as the what was what. As well as getting a single or twin bed you get a Double, Queen and King bed. Each one being larger that the previous one. They had a special deal on the Queen bed which is why I got that one :-)They will arrange to deliver it all for me and set everything up. So just need to get duvets for the beds, kettle and toaster and that will be me setup until my stuff arrives from Scotland. I was also looking for some kind of desk to work on until my stuff arrives so Brian took me down to their warehouse where they store some second hand stuff and I found a great pedestal table which they kindly threw in for free.
I really just need to arrange for the cable internet and TV service and arrange the Hydro and that's about it.
George reckons he will take around 3-4 weeks to do all the stuff around the house so the plan is to head down there Monday week to see how things are going. I will then be staying up in Toronto until around 7th May and then going down on the 8th to take possession and get settled. Nola is heading to Turkey for 10 days at the end of April and asked me to stay on while she was away and hence the short delay. More than happy to help out as they have all been absolutely great in putting me up for so long. That will be six months all told!
In the meantime I plan to do some advertising selling to make sure I have enough money to pay for everything :-)
Plans are continuing with my immigration. I now have my police report from Scotland and my educational certificates have also arrived. So I now need to get a police report from the RCMP here in Canada and also get some pictures taken. Once that is sorted I'll be starting to build the application.
One thing I did note is that they want to know every address that you've lived at since aged 18 and that is certainly going to be a problem for me as I shared flats and houses in various parts of Coventry and for the life of me I can't remember any of the addresses.
I also have to get letters from past employers for the last 10 years. That will be fun as I was the Employer for the first 5 years so looks like I need to send myself a letter :-)
Anyway... some serious hard work needs to go into this now to get things moving but at least I can now say I have a house and car :-)
And on my return to Toronto I ended up missing a road I should have taken and so while I kept driving I noted the single Wind Turbine way down to my right and thought to myself... I should be down there somewhere and not up here. So.. I got my mobile out and phoned Harold to say... Hi.. I seem to have arrived at Ajax and think I might be getting lost. He kindly told me that I had gone far too far and needed to turn around and head back the way I had come. Now this being a Friday and around the 5 o'clock rush hour I have to say that the road reports were indicating that a chunk of the city was grid locked. So.. it took me some time to get myself turned around and long delays getting back to the house. I don't think I've ever seen so many cars, even in London. Some of these roads have 15 lanes so mighty confusing. Anyway... I did arrive back eventually :-)