Now Wednesday 18th May and making some progress.

Bathroom floor has now been laid and sink and toilet have been replaced. Just the cosmetics on the bath now and I've to decide whether to do anything about the bathroom cupboards or just leave as is for the time being.

I have now got blinds up on all the main windows so just a couple of small curtains to put up and to decide what to do with the landing window as a curtain there would look nice.

And as you might see above I have got the spare bedroom ready for guests. Well one bed is made up anyway... need to do the other which is hidden by the door :-)

The Kitchen has been problematic in trying to get everything laid out so I can get to everything and actually see what I have. I discovered I'd forgotten a lot of food items on my first big shopping like spices, etc. so got most of them on my next shopping expedition. That of course only meant I had to re-arrange the kitchen cupboards yet again. In the end I decided I needed to get some work space so went and purchased a free standing cupboard which it now sits on with my deep fat fryer underneath and pots and pans in the cupboard. This then freed up another cupboard which I was able to use to store the cereal items.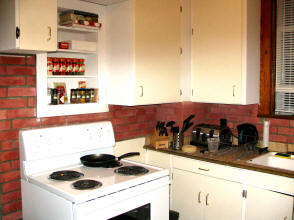 And you can see some of my spices laid out above the cooker. I now have room to put down the chopping board and a drying rack for the crockery me not having a dish washer. And talking about the cooker I did have some problems with it. I couldn't get the oven to work so phoned Tom & Al's and they said they'd get someone out to have a look at it. They then phoned back and asked... have you not got a knob on the cooker which says "Broil and Oven"? Err.. I'll check.. and there it was and magically the oven worked :-)
While on the phone with them they told me that my chair has arrived along with my hi-fi unit with the record deck and they are going to deliver them on Friday afternoon. This only leaves the portable hi-fi set with the cassette player to come and that will be the lot.
I have my new cordless telephone system working now with the base in my office and a satellite phone both in my bedroom and living room. One thing about the phone system is that Bell do a deal where you get up to 1200 minutes a month to anywhere in the USA and Canada for $29.95 a month. As a result of this I have joined a new plan for my Rogers cell phone cutting the price of that service in half.
I also had to get a new printer so ended up getting the Canon 4 in 1 printer which gives me a colour printer, copier, fax and scanner. I also picked up a USB hub to save me having to keep unplugging one connection to swap it with another.
I have the wireless router in place so if anyone visits me with a wireless notebook they will be able to work from anywhere in the house.
With all the computer equipment I have used every plug that they put into my office and my desk can only just fit everything in. I treated myself to a new wireless keyboard and mouse to remove some of the cables and they are working very well. Mind you getting a new keyboard doesn't half slow you down as they keys are just slightly differently placed but am getting back up to speed.
Also received my new drivers license with the new address and got confirmation from OHIP that they have registered my new address and also the SIN card folk.
I did have some problems paying my car insurance with North Kent Mutual as they couldn't take any of my debit cards. So.. I managed to get $800 out of the ATM machine to give them a down payment and have wire transferred some money to my Scotiabank so I can pay the balance when I head up there tomorrow.
I have also now arranged to get a standing monthly wire transfer each month from my US bank account to my Canadian one so I'll have a regular sum of money coming in to pay all the regular bills.
Am also trying to get my garbage sorted out and so went to Canadian Tire to get a garbage bin and while there saw some excellent wooden chairs and tables so bought four chairs and two tables which I will use on the porch. Mind you if folk call and I still don't have my stuff from Scotland I can also use them as temporary chairs in the house. Once assembled they do fold up so can store them in the basement when Winter sets in.
My stuff from Scotland has been organised and have paid the balance to get them to ship to Canada so it should be with me in around 8 weeks time.
Had a Saturday early evening out at a local pub where they have pool and darts tables and met some real nice folk. They tell me that during the week they serve lunches and apparently their beef burger and fries is almost more than you can eat so looking forward to trying it :-)
No curry shop but they have a Cajun restaurant which is on the way to the pub so will try that at some point.
I am getting to know my way around a wee bit now. I can get to St. Clair Street which is where some of the big stores are plus most of the decent fast food places. Found the Canadian Tire, Office Depot and other large stores so think I've got the main ones figured out now. Also know where the Post Office and my Bank are and so far have tried two grocery stores one of which is just a few blocks away. One of them does Scottish meat pies and pork pies and even stocks Ginger Beer!
I am pleased to say I have found OXO stock cubes and Bisto gravy thickening which I am used to using back home and also Branston pickle.
So I think I'm about there when it comes to the house and getting settled in. Need to check out the other stores in the area and when I head to Dresden to pay the balance of my car insurance I will take the opportunity to visit Uncle Tom's Cabin which is in the town.
As always there are wee things that need done like getting some cupboard door latches fitted as the doors keep springing open. Getting a couple of mirrors up. Fixing the doors so they shut properly. Still to get my book cases built but that's ok as I don't really need them until my stuff arrives from Scotland.
The Garage has now been cleared of rubbish and is being used to store the painters kit so he can work on the outside of the house without having to get inside the house to get his stuff. George is also putting together a wee domestic tool kit for me for the wee jobs that I can do myself as they come up.
So.. it's now onto the outside of the house which I'm told will start on Thursday. I do need to visit my local bank as they told me they'd cancel the US Dollar account but it looks like it's still live as I got a statement in from them today. I also need to visit the local police station as they are meant to have a security statement for me which hopefully says I haven't done any criminal activity while I've been in Canada. I need this for my immigration application.
And now that all that is organised I need to settle down to pull all the papers together for the immigration application as that needs to be in during this month. After that it will be back to working full time on the web site.
So that's my story of this week :-)