Today I heard from Allied International that they are so busy that it looks like it will be 7th July before they can deliver my goods from Scotland. Bit disappointed at this as it looks like I can get my goods over from Scotland to Canada a lot faster than it takes them to deliver it from Toronto to Chatham. Anyway they are going to confirm the date and time and they say if they can do it sooner they will. Apparently Summer is not a good time for getting goods delivered. They say if my goods had arrived in May I would have had delivery within one week.
All of that said they then phoned just on lunch time to say they will be delivering the goods between 10 and 12 tomorrow :-) Apparently they had a cancellation so were able to fit me in for which many thanks!
I headed out around Chatham centre today to have a wee look at the shops. Will need to do another round because I got caught up in the local antiquarian book shop on Queen Street. And... I ended up purchasing a few books :-)
Dain Spioradail
This is a book of Gaelic verse published in 1873 and is the twelve edition of the book. While I am sure most us won't be able to read this I did think it would be good to publish this on the site. It's got 160 pages and is a small book so should be easy to scan in.
Kentiani
This is the story of the settlement and development of the County of Kent in which area I am now living. It was produced by the Kent Historical Society in 1939. It has 106 pages so again shouldn't take long to scan in.
The Life and Public Services of Henry Wilson
This book was published in 1881 and browsing the book it seemed to go into some interesting details of the society in the 19th century. This person was of Scots descent with his ancestors going from Scotland to Ulster and then onto America and became Vice-President of the United States. The book is around 460 pages in length and I thought this would make an interesting read.
The Life of James Robertson
Printed in 1883 this is the second edition of a man who was Missionary Superintendent in the Northwest Territories and born in Scotland. Some 420 pages but again taking in a time period that should make very interesting reading.
A Son of Scotland
This is an account of R. H. Bruce Lockhart who traveled all over the world and was published in 1938. It is still within copyright but is an account of his early life being brought up in Scotland. I may publish it some years ahead but thought there might be some wee snippets I can use prior to that. In any event it is a book that I think I'll enjoy reading.
One Hundred Years of History 1836 - 1936
This is the hundredth annual report of the St. Andrews Society in Toronto. Again this is copyright 1938 but as it mentions so many Scottish names I thought this would be very interesting to publish on the site so am going to see if I can get permission to publish this.
On 21st June my goods arrived from Scotland and I can see I have a lot of work to do to put everything away. The delivery folk did unpack pretty well all my boxes for me and assembled my desk unit. I still need to add some more plug sockets so I can get everything connected.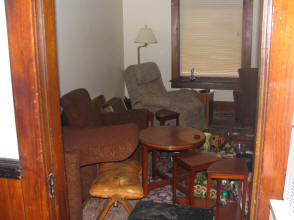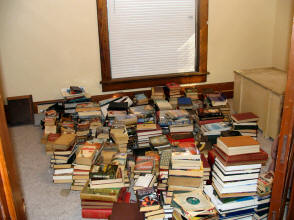 As you can see it looks like a bomb has hit the place :-)
I did retain a couple of boxes as I'll likely have to store some of my stuff in the basement and especially until I get a china cupboard to put my good china on display. Found I had loads of cutlery, far more than I need so that will go into store as well. Got quite a few rugs to scatter around but will need to figure out where to put them.
Being on my own I don't need a dish washer but have sure had to wash a lot of that china that arrived and the cutlery. Been sorting out my cupboards again and think I've just about managed to get all the day to day plates, cutlery, pots, pans, dishes, etc. into them. Even found my "The Chief" coffee mug :-)
Am now looking for my Saltire Flag so I can get that hung out... guess I'll also need to get a Canadian Flag up along with it. I also found the wee present that my next door neighbours in Scotland gave me. They took a slate that had fallen off my roof and they got it engraved with both families names on it and then got it put in a frame :-)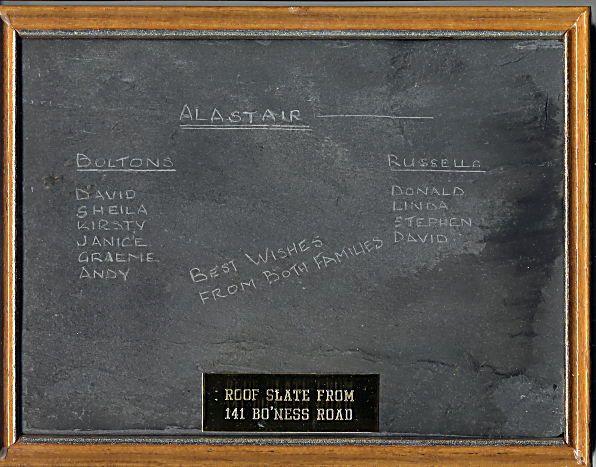 And of course I have still to get my book shelves built but the books are already in the room waiting for them :-)
Today, 22nd June, I received a letter from the Immigration Regional Program Center saying I now have a file number which means I'm now in the queue.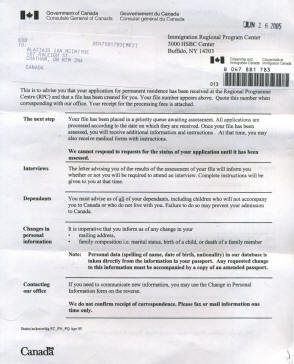 And today, the 23rd, I am at last getting the guttering in place. They will have completed the upper stories today and will likely complete the job tomorrow. The electrician is coming on Sunday to do the lighting for my computer units.
Bit more painting done and in fact the upper stories and all windows and shutters have now been done so really just the porch to complete and some of that work has also been done. The painter is now away for a weeks holiday so guess it will all be done in a couple of weeks time. A few of my neighbours have been commenting on the work being done and say it's nice to see the old place being done up :-)
Still to have to have the second set of stairs replaced on the porch but George reckons he can have that done before the painter returns from holiday.
Several people have said I should get all my money back on this renovation and then some so that's also good to hear.
I do need to get a wee alteration done to my air conditioning vent in the office so I can fit my other cabinet in without blocking it but talking to George he says that it's easy to do and will get that done for me. So I hope that by Sunday the office at least will be just the way I want it.
So that's my report bringing things up to date for now.