Not a lot to report in the first few days since my last report other than working away. I did get up to the clock place in Wallaceburg where I took my grandfather clock for repair. They tell me no problem in repairing it but it will take around 2 months as it takes time to get parts.
As it happens I was asked recently where I'd put the clock so here is a picture while it was in the house and where it will be going when I get it back...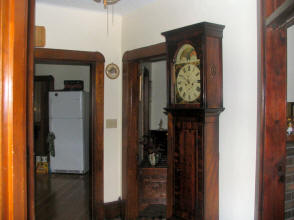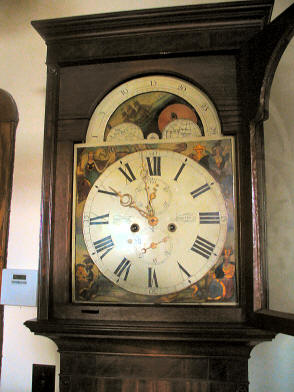 As you can see it goes in the hall and this shows it as you come through my front door
It's been hot and dry for quite some time and some water shortages have been reported in the area. On Tuesday 19th July we did get a heavy downpower and I also lost some of the flashing around the garage. This later isn't really much of a problem as I'm due to get a new garage roof shortly.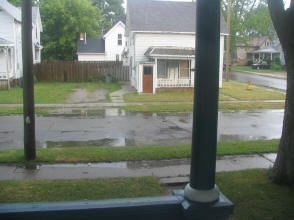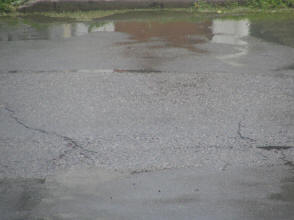 Wee bit of flooding in the street
I also got visitors today from friends of the web site from Sarnia and we had a wee glass of wine and a grand chat...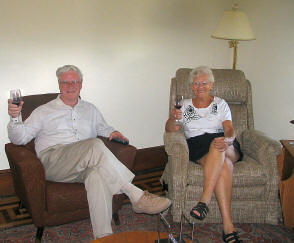 On 26th July due to a major storm I lost my internet connection and it was 26 hours before I got it back. I had been assured by Cogeco that I would get a very fast response for any business down time so I was a bit disappointed to say the least at this long down time. On discussing things with the business technical support team they recommended that I downgrade my business line to a lower plan and take out a high speed connection with another provider so that if one went down I'd always have another connection.
While I appreciate the advice it seems most peculiar that they should need to recommend that as they really should be able to sort things out much quicker. I phoned them at midnight to be told that all Internet connections were up and running apart from three business accounts of which one was mine. It was almost 4pm following before I had my connection back. I am thus of the opinion that this was simply very poor service and not an actual problem that took a long time to fix.
On Friday 29th I set out at 6.00am to start my journey to the Glengarry Highland Games. While I may well visit other Highland Games I don't actually intend to document all the Highland Games I might attend. There are two in Ontario, Canada that are reckoned to be the top games so I felt I would try and take a lot of pictures of Glengarry and also Fergus which is in another two weeks. So.. if you want to read about my Glengarry visit and see all the pictures I took, click here!
So what were my impressions? Actually it is quite difficult to explain as I've only been at three other Highland Games, one in Florida with around 10,000 visitors and two in Canada, one at Georgetown and the other in Chatham. This is certainly the first Highland Games that I have attended where there were a lot of security people all over the gathering. It's also the first that I've attended that had a large portion of the core site set aside for special people and the first that I've attended that had a grandstand. My main purpose for attending these games was to talk to people at the clan tents. Being an historian I am naturally keen to obtain any information I can so that was really the No. 1 priority.
I also wanted to document the games as best as I could as apart from Fergus I really don't intend to document any others. I have never been to a Highland Games of this size before and on a purely personal note I don't think I'd go back. I didn't like the high security they had there... it just didn't feel right to me. I couldn't get very good access to take pictures and any pipe bands that were performing were so far away or surrounded by large crowds that you just couldn't get near. The best you could do was go further out where they were practicing.
While I enjoy hearing the pipes and drums I am by no means an expert so whether I was listening to a top band or an average one I probably couldn't tell them apart. I did meet a few of the Mexican pipe band however and they are going to send me a story about the band and the St. Andrews Society in Mexico once they get back home... so looking forward to that.
The games certainly had around 65 or 70 bands playing at the event and they have a special competition for pibroch players. I didn't get to hear them mind you. I only got to see one Highland Dance but that was partly because the security guard chased me out despite me having an infield pass.
I'm told the tattoo on the Friday night was really excellent and attended by some 10,000 people. On the Saturday night there was to be a grand parade of all the pipe bands but we left before that started and there was to be song and dance at the beer tent later in the evening. So certainly lots to do.
I guess these large events are not for me although I'm quite sure for folk that like the very best pipe bands and pipers and highland dancing they will be in their element. Most of us Scots don't in fact go to Highland games back home and I'm no exception. I did enjoy some of the Scottish food on sale and I did meet some very nice folk and on the whole I got what I came for and that was to meet the clan tent people. It was a secondary objective to try to document the games and despite all the pictures I took I didn't feel I achieved a real story of the games. Anyway... for me this games didn't cut it. It seemed a somewhat elitist event with far too much security and no go areas for my liking. The other games I have attended provided much easier access to everything and a much more informal setting.