The time of Canada's "two solitudes" has passed, Michaelle Jean said during her maiden speech as Canada's 27th Governor General.
Jean, who had endured questions about her sympathies to Quebec sovereignty, said it's now time to focus on promoting national solidarity.
"The narrow notion of 'every person for himself' does not belong in today's world, which demands that we learn to see beyond our wounds, beyond our differences for the good of all," Jean said as she urged unity and tolerance.
Prime Minister Paul Martin hailed the new Governor General as a glowing example of what lies at the core of Canada: respect for all cultures, races and religions.
"Madame Jean is renowned for her compassion, her eagerness to listen and for her desire to act," he said.
Jean, 48, a Haitian-born Montrealer and television journalist, was sworn in during an elaborate ceremony in the Senate Chamber, which included musical performances by artists from across the country.
She expressed her love of the country she came to as a young girl in 1968, when her family fled Haiti.
"I am determined that the position I occupy as of today will be more than ever a place where citizens' words will be heard, where the values of respect, tolerance, and sharing that are so essential to me and to all Canadians, will prevail," she said.
"Those values, which are paramount for me, are linked inextricably with the Canada I love."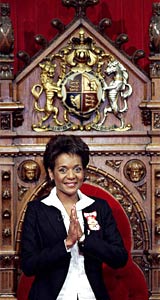 Jean emphasized the importance of Canada's diverse population as well as the value of its young people, before speaking of her own youth.
"The story of that little girl, who watched her parents, her family, and her friends grappling with the horrors of a ruthless dictatorship, who became the woman standing before you today, is a lesson in learning to be free," she said.
Jean arrived at Parliament Hill with her husband Jean-Daniel Lafond. She was greeted by a military honour guard before joining the prime minister to enter the building.
The ceremony began with a stirring musical performance by Madrigaia in the Rotunda that moved Jean to tears as she sang along.
Inside the crowded chamber, Jean's family members, including her six-year-old daughter Marie-Eden, listened as she took the oath of allegiance to a standing ovation from a chamber packed with dignitaries and MPs.
Jean replaces Adrienne Clarkson, who ended her six-year term at Rideau Hall. Clarkson also attended today's service -- marking the first time in more than 100 years that an outgoing Governor General was present at the swearing-in of a successor.
During the ceremony Martin thanked former Clarkson and her husband John Ralston Saul for their work over the past six years.
"With warmth intelligence and wit they have honoured this high office and made an indelible contribution to our nation," Martin said after a prolonged standing ovation in the Senate.
Jean's appointment as Governor General was controversial, with accusations that both she and her husband, film-maker Lafond, had associated with and sympathized with Quebec separatists.
She also was criticized for holding French citizenship. Jean became a French citizen when she married Lafond, who holds both Canadian and French passports, two years ago. She announced Sunday she was giving up the dual citizenship.
Jean is the first black person and only the third woman to hold the title of governor general. And she is also one of the youngest to hold the office -- the highest in Canada's constitutional order.
Jean's personal coat of arms shows two black mermaids blowing conch shells under the motto "Briser Les Solitudes" -- breaking down solitudes.
Her office says breaking the solitudes, a term often used to describe French and English Canada, is at the heart of her objectives as vice regal.
In the centre of the coat of arms is a sand dollar, which her office says is a special talisman for Jean. The mermaids are from Haitian culture and are said to symbolize the vital role played by women in advancing social justice.
A CTV/Globe and Mail poll conducted before Jean was sworn in showed broad support for her, particularly with young Canadians and among Quebeckers. In that province, 71 per cent of people polled said they thought she was a good choice for the job.
Her first day as Governor General began with her arrival on Parliament Hill from her new residence at Rideau Hall. It will end with a dinner for 900 at the Civic Centre in Ottawa.
Both Clarkson and Jean are former CBC journalists, and both have been controversial. Clarkson stirred criticism in her vice-regal role, mostly for her extensive and expensive travel and for authorizing costly renovations at Rideau Hall.
You can also learn about her coat of arms.
And so now you know a bit about her :-)
On Wednesday 28th September I headed out to get my medical for my immigration application. Got to the Doctor's at 11.45am but had to wait around half an hour to see him. I did see the nurse prior to meeting him and she revealed her maiden name was McIntyre :-)
Anyway... having got the medical bit done it was on my way to the Chatham Hospital to get a chest x-ray and blood tests done. Like most places in Canada you get a number and then wait until your number is called and then things progress from there. After the usual wait I got my X-Ray taken but told them that they had spelled my first name incorrectly as Alister instead of Alastair. They assured me this would be corrected. I then went up to get my blood work done and again had to point out the spelling of my name and this time I saw the Doctor heading away to get this corrected and later she showed me it had so that was good.
I should mention here that you are charged $12.00 for the blood work test and a further $41.00 for the x-ray. I mention this as I had thought the $100 I had to pay to the Doctor was all I needed to pay. You pay this other money at the cashier's office prior to leaving the hospital.
And so by 3pm I was finished and so headed out to the car park to get my car, and have a well earned cigarette only to find I needed a further $4.00 to get out of the car park and the machine only took $1 and $2 coins... so you guessed it... back into the hospital to get the correct change as all I had were quarters :-)
The hospital will send everything back to the Doctor and he will then forward everything to the immigration folk. They don't really explain things to you but I understand they are looking for medical problems that could cost Canada a fortune in health care costs. So this means you have an AIDS test done and I guess they are also looking for signs of cancer, etc. I'm told that being a diabetic is not a problem.
On Thursday I got my work permit application back as I hadn't included the processing fee of $150.00 <gulp>. I did look again at the form and it didn't say anything about that so I guess I must have short circuited the process by just getting the form. So... it was hot footing it down to the bank to get a money order then into the post office to post it back to them.
I was also closing off my UK tax affairs meaning I'm being transferred to the ex-pat dept. of the Income Tax folk.
I'm also transferring my company address in the USA as by doing this we'll be only some 50 yards from the main telecom exchange. This means that in the new year I should be able to get fibre installed for my leased line and it looks like I may also be able to double my capacity for around the same price as I am currently paying and so that is real good news.