On Saturday 1st October 2005 I became a member of the Knights Templar in Toronto.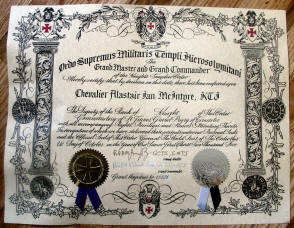 My Certificate
There were 15 of us being made members and it was certainly an interesting experience. We met at the Church at 3.00 with us novices starting our retreat at 3.30. We had to have some silent moments to think about what we were about to do and also received talks of the history of the Knights Templar together with some of the work that they were doing on an International basis. It was then onto the service and if you are interested here it is to look at...
We got knighted with the sword by the Grand Master and then clothed in our robes and at the completion of the service we headed to the Royal Canadian Military Institute for a banquet which was most enjoyable.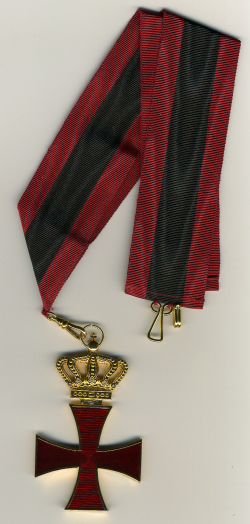 And this is the cross you get to wear when attending special events
I didn't take any pictures but there were lots taken by a professional photographer so hopefully I'll get some at a later date which I'll add in here.
You can learn more about the Knights Templar at http://www.osmth.org/
On October 4th I got an email saying my work permit renewal had been approved and noted that I should now leave Canada and then report at a port of entry so that it could be issued.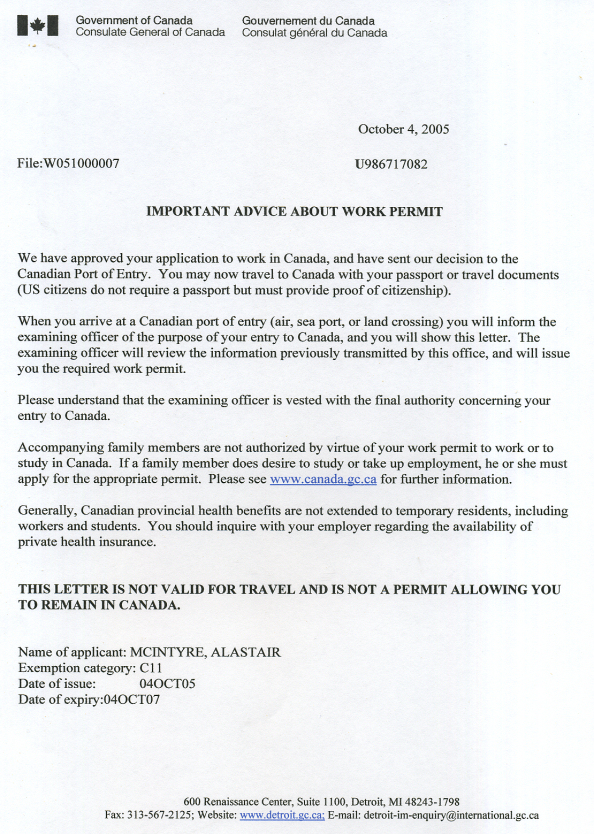 And the reason they emailed it to me was due to my previous work permit expiring on 1st October and so technically I was an illegal alien for 4 days <gulp>.
As they said Port of Entry I thought I might be able to get my work permit at Walpole Island but having gone there they told me I had to go to a place where they had an immigration office and that was either Sarnia or Windsor. As Sarnia was a lot nearer... only some 40 minutes... I hot footed it to Sarnia which is on Lake Huron, around 1 hours drive from Chatham. While I visited the Immigration Office I was told by them that I actually had to exit Canada and then come back in and present myself to immigration to get my new work permit.
I really couldn't understand why I had to exit Canada to renew my work permit so I asked :-)
Apparently it's because the Immigration folk have the final say on whether to grant you the work permit. While the consulate can approve the application they can't actually issue the permit. From the Immigration point of view if they declined to accept your application from inside Canada and they decided not to grant approval for any reason then they would need to have you arrested as they "can't send you back to Canada". On the other hand if you come into Canada from the USA then they can simply refuse you entry and return you to the USA and so that makes it a simple matter for them.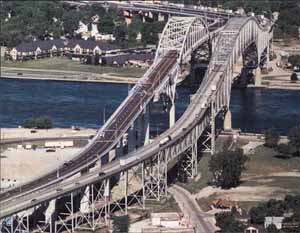 The bridge over to the USA
As a result of this system I then had to go over the bridge to the USA side and complete the usual forms and pay my $6.00 processing fee. I then turned around and headed back into Canada and reported to the Immigration department where they approved and issued me with a new work permit. They also noted my previous work permit had expired 4 days previous!!!
I might add that Moira in Detroit had arranged to have my new work permit go through to 4th October 2007 and so give me a two year permit rather than the one year one I'd had before. She did that of her own initiative as I just asked for one more year. She felt as I'd applied for landed immigrant status this work permit should certainly last until a decision was made and so hopefully this would be the last permit I'd need to apply for and so many thanks to her for that.
All the border folk in the USA and Canada were very helpful and pleasant to deal with but it does take some time to process everything. I think I caught them at a good time as it didn't take too long to get everything processed. All in all it took five hours to get there and back and be processed.
I now need to contact the OHIP and the SIN card folk to get my cards updated so I'll start that process tomorrow.
On another topic... I have been in communication with folk that are interested in Scots in Argentina and several have told me that the book "Scots on the River Plate and their Churches" is the very best one to give us information but it's extremely hard to find. Well I'm delighted to say that I have located a collection in the Scottish Collection at the University of Guelph. I intend to drive over there next week to photograph the book and post in on the site.