On Friday 7th October I got a phone call from the Sun newspaper in Scotland asking me for some comments on the Scots in Canada as they wanted some content to go with articles on Scotland's First Minister on his upcoming trip to Canada.
I was happy to give my views and also to point them to other people around Canada and the USA that I was sure would give them more information. I made sure they knew about the Scottish Studies Dept. at the University of Guelph and of course Simon Fraser University in BC. I also told them something of Cape Breton. In fact I told them that much that she said she had enough content for 60 articles never mind one :-)
I also went in to some depth about the Odom Library in Georgia which I believe should have much greater publicity in Scotland.
So... hopefully something interesting will come out of all this :-)
I've also taken the opportunity to email the First Minister's office to give him links to information on Guelph and the Library so hope that will be of some help. And, as I've been invited to attend the talk that he'll be giving at Guelph (an open meeting for any that want to attend) I've also arranged to photograph that book on "Scots on the River Plate and their Churches" that they have in the rare book collection.
Got in some pictures from the Knights Templar event in Toronto...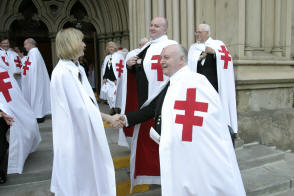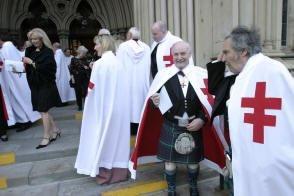 We made an interesting crowd at the church and I noted some tourists taking some pictures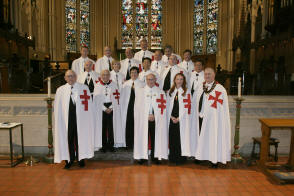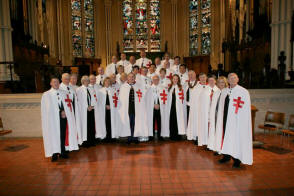 And a crowd scene in the church :-)
Since posting up some information on my investiture I've received a few emails from fellow Templars saying they are looking forward to me posting up some decent information about them. I will also be helping the Toronto chapter to build some content in the weeks ahead and so hopefully folk will learn more about the organisation.
Couple of observations this week...
1. I've noted that I am getting lots of wrong numbers here in Canada. I'm not sure if this is due to all the people with mobile phones that just keep hitting the wrong keys because the key pads are so small or what but it feels like I get a phone call every other day from someone that has got the wrong number.
2. The other thing I finally noticed is that wagons on the road don't flash their lights at overtaking wagons to say they are now clear and can move back in. This is something that happens in the UK but not it seems in Canada. As a result quite a few wagons that could have pulled in earlier don't. Mind you I can't say I noticed this in the USA either. On the other hand when a wagon is slowing down or building up speed on the main highways they do put on their flashers and conversely I don't remember that happening in the UK.
Headed for the Doctors on Thursday 20th October to get a prescription and ended up having my blood pressure taken and weight as well. The later ended up with me having to fill in an eating plan for the next six weeks so guess I'm not losing weight :-) They give you a sheet headed up daily for Breakfast, AM Break, Noon, PM Break, Dinner and you are meant to write down everything you eat that day. It's then handed in weekly to the Doctor's office and if you don't hand it in they phone and hassle you for it. I note they didn't mention "Supper" or "Midnight Snack" :-)
They say that it can help in three ways... First as you have to fill it in you might decide that bit of chocolate shouldn't be eaten after all. Second, by filling it in it may well highlight to you that you are not eating correctly and third, that the Doctor can see what your eating habits are like and may be able to suggest a better diet. So all in all guess it's not a bad idea. I do this for several weeks until my next appointment which is 30th November.
This week also saw me buying a black tie outfit, shoes, casual trousers and a few other things. It's actually been about 3 years since I last went on a shopping trip for clothes and I hope this trip will last me a long time. I actually lost three pairs of trousers a few years ago in Scotland when the local dry cleaner had a problem and ruined all three pairs. They did pay compensation but I just never got around to replacing them. So a painful trip for the wallet but this lot should last me a long time. I made a point of going to a good quality shop, Boyes & Hepd, 143 King St W, in Chatham where they had two good tailors. With me being a bit portly and with short legs it isn't easy to get a decent pair of trousers and so this shop are tailoring each pair for me. Expensive but well worth it. The names of the owners are Eddie Mariconda, Bud McKellar, Bill Hillman and Mario Nargi. It was Eddie and Mario that were responsible for me spending so much money :-)
They actually purchase a special line of trousers which can be tailored to fit. For example I have a 40 inch waist and so while they can shorten the leg the seat of the pants will be baggy. In their case I can fit a 38 inch waist and thus get a better seat and they can then let out the waist to the 40 inch size. They showed me other pairs of trousers where this simply can't be done because of the way they are stitched. I actually learned quite a bit from them. Both folk are of Italian origin and were telling me that in another 20 years it is going to be very hard to find any tailors as young people just aren't coming into the profession.
I also got a new white shirt for my black tie outfit and they had an interesting one which had both studs and buttons so you can choose which way to have your shirt buttoned. The other interesting aspect was the top shirt button which was elasticated so that it had some give and wouldn't throttle you. It's amazing how these little things can make a big difference. They pointed out that young people of today much prefer looser clothing and hence these wee changed which make all the difference. As an aside, I was asked to try on the shirt to ensure it fitted properly and I think this is the first time I've ever tried on a shirt.
I have the same problem with shoes in that I just never seem to be able to buy comfortable shoes. I am around 8 to 8.5 for shoes but usually at that size can't get the width right. That means I often buy 9.5 to get the width correct. So again this time I've got triple width and an 8.5 shoe so these will be comfortable. I tried on a pair which were most comfortable but they are ordering up another style for me from the same manufacturer. They mentioned that where you get a ridge developing on the top of your shoe that normally means they are too large. They had some old shoe wideners that had been made in the last century in Scotland. They push these down into the shoe then wind the handle to widen the shoe.
I also got myself a cap which looks like the Scots bunnet. The thing about this bunnet is that it has a bit at the back which you can pull down to cover your ears in really cold weather. I was looking for something like this as I remember when I was in PEI last year my ears really painful when the wind was blowing over the snow.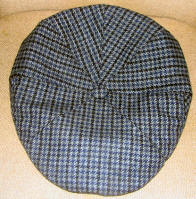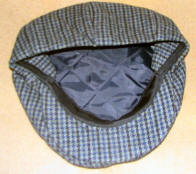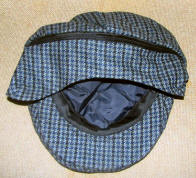 So the first two pictures look like a perfectly normal cap but the third picture show the extra flap that is pulled out to protect your ears.
Also got myself a new pullover, pants and a few casual business shirts and a pair of swimming trunks and so all in all got myself well sorted :-)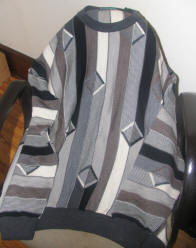 So all in all it was an expensive but very interesting shopping experience. I will be back next week to pick up my trousers, etc. once they have been altered.