Well as this is Monday 24th October 2005 it means this is the week that Scotland's First Minister will be visiting Canada. The Sun newspaper printed an article about the visit and I was interested to note that they call me an "Internet Tycoon" with 21 million turnover <grin>. That would certainly be nice if it was true :-) Here is a copy of the article...
I headed for the Human Resources office here in Chatham to get my OHIP card renewed which is the card that allows me to claim free medical care. They just get you to fill out a form then they check your work permit and ask for your drivers license and old OHIP card and then they take your photograph and that's it. They will send me a new card with the new expiry date on it in around a months time.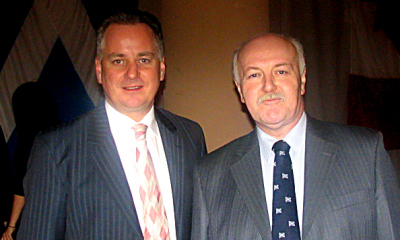 Got my picture taken with Jack McConnell

On the left is myself and on the right is Harold Nelson with Pat Ross

And Nola Crewe
I was of course staying with Harold and Nola at their home in Toronto.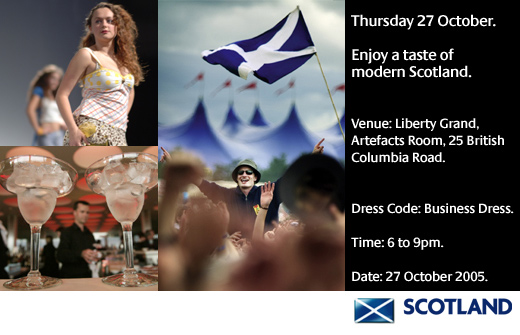 This was the invite to the dinner
I had a great time this week starting with the dinner for Jack McConnell in Toronto and you'll note I got my picture taken with him :-)
The next day I was heading for the University of Guelph where I was going to photograph the book, Scottish Settlers on the River Plate and their Churches, and while there was also able to take in the First Minister visit.
I also met with Larry Hynes of Business Immigration who was near Guelph and decided to pop in to me and take in the First Ministers talk but arrived just as he had finished. We did have a coffee in the ones of the many coffee shops at the University. I should have taken a photo as Larry was sporting a neat hat that he'd just purchased from another potential immigrant that he had been visiting.
So just after 5pm I was then due to head down to visit with Keith Rattray and his wife Georgina at their Ceilidh Stables.
So having spent a whole day and enjoyed a turkey dinner and good conversation with the Elliots and all the folk at the stables it was time for me to hit the trail back to Toronto for it was the mother of Nola Crewe that was having her 100th birthday party.
George has also made a start at getting my Garage roof fixed and will be back to complete the task and do a couple of other things that are still outstanding.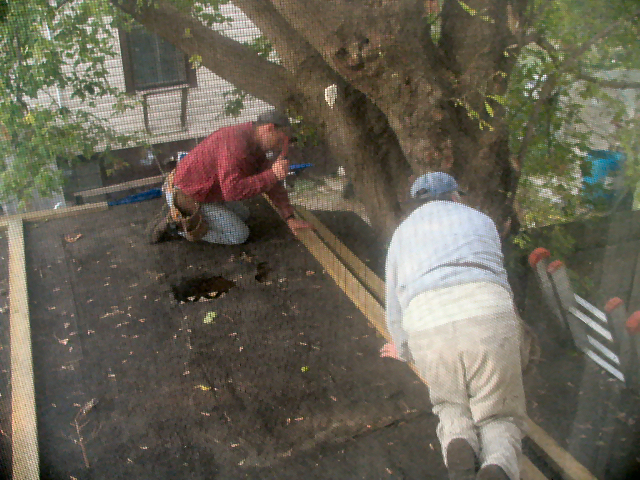 I also met Cyndi, Junior's girlfriend, who has agreed to do some cleaning for me and help put some of my stuff away that is still gathering dust in the dining room :-) In my next journal I'll likely be able to take a picture of my dining room!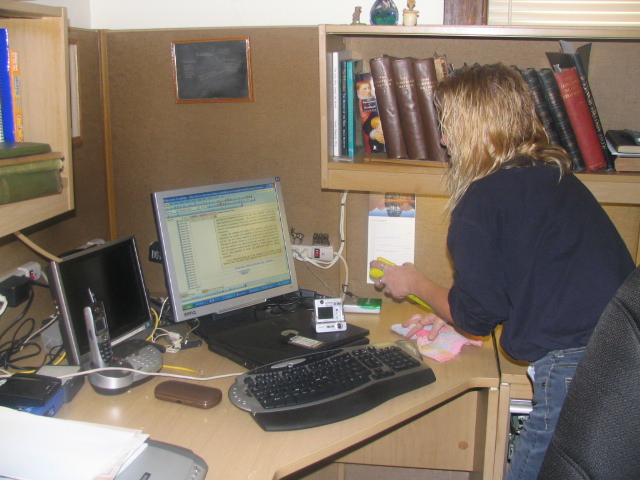 She did say that she didn't like having her picture taken so compromised with this shot showing her cleaning up my office :-) I will say with her doing all the cleaning it inspired me to clean up my office and start to get some of the papers put into the filing cabinet.