Week commencing 14th November I headed down to Pardoe's Village Market to make good my promise to take photographs of their Christmas products and the other members of staff that I didn't take on the last two visits. I also picked up some more of their frozen rhubarb :-)
I was then heading into Toronto to attend the Scottish Studies board meeting which was held at the Ontario Club and stayed over with Nola and Harold. This time I went by train and had an enjoyable trip. On the way back I was sitting with a lady that told me she is hoping to get the chair of the Health department at Aberdeen University in Scotland. She was on her way to give a talk in the USA.
Note that the Christmas lights are starting to go up and the usual bank of Christmas adverts are starting up on the TV. Have seen a few flakes of snow this week and am told Chatham is due for 3 days of snow starting next Tuesday 22nd so we'll see what happens.
This Saturday 19th I have had John in to re-paint my office and dining room as the old wallpaper decoration was showing through so hopefully that will be the final paint job.
I got told of a member of the Sinclair Clan Society doing great work in glass and has apparently done some 4,000 angels as well as other glass work. I thought I'd send her a picture of my two glass angels.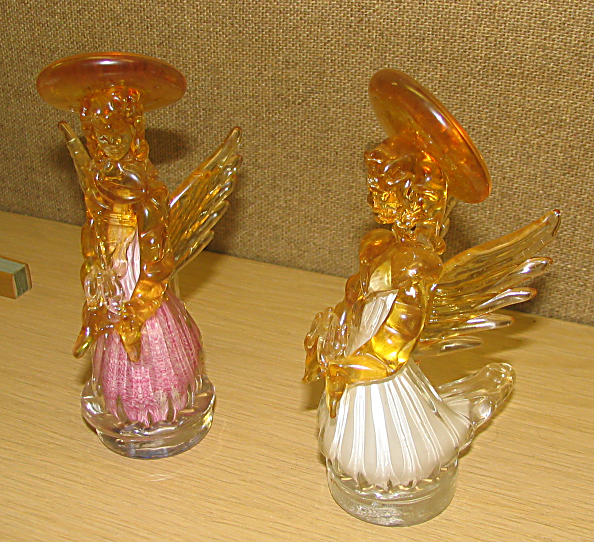 I'll hopefully do a wee feature on her at some later date as she is based in Hamilton, Ontario and I pretty well need to pass there on my way to Toronto.
On 22nd November we got the first fall of snow in Chatham and it continues to fall although not heavy.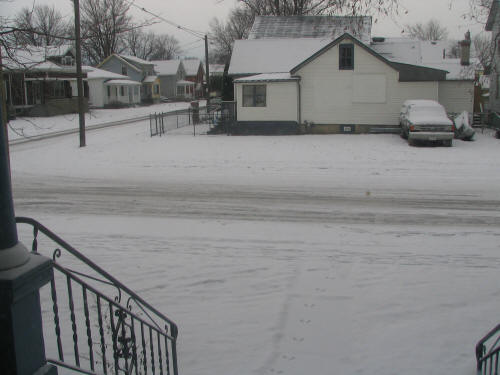 This is a picture taken from my front door on Saturday morning, 26th
Thanks also to Cyndi I now also have my dining room in a state to use although still need to get some pictures up on the walls.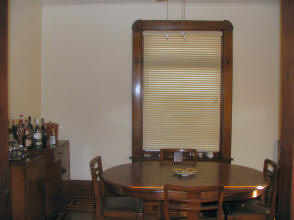 And you'll note a nice little bar coming together :-)
It's been a quiet period since getting back from Toronto and I've been able to move forward with getting books up on the site and have started another three books. I was particularly pleased to make a start at the "Scots-Irish in History" as I don't have anything substantial on them on the site so this fills an important gap in our knowledge. I've also made progress with a book "Our children in Old Scotland and Nova Scotia" which is really about an amazing women who really started the organisation Prevention of Cruelty to Children in Scotland.
I was reading the local paper, Chatham This Week, on 30th November, and came across this article about St. Andrew's Day. (You need to click on the article picture to get a larger version to read)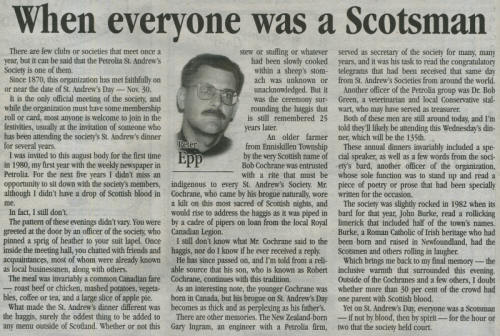 I've been reading this local paper for a while now and I see the same kind of problems in Chatham as I've seen in other parts of the world. Essentially it's the loss of manufacturing jobs, usually well paid jobs, that impact the community. Charity organisations finding there is a greater call on their services but now have problems finding sufficient money to meet the greater need. The lack of Doctors is still an issue. And of course the local council is looking at ways of saving money but still looking at a greater than inflation tax increase. Rural parts of the area protesting that their services are always the ones to be cut first. Need for more police officers and so it goes on... does this sound familiar to your area? It sure sounds familiar from my time in Scotland with all the same issues being discussed.
The one major difference in Canada to someone coming from outside is the very low cost of living. I guess salaries in Canada reflect this but certainly to someone coming from Scotland I can get far more for my money.
Being a web publisher I just don't see the web being used to promote my local area. I offered to do some free promotional web work to highlight some of the companies in the area and so wrote a letter to the local Economic Development Department and handed it into their office. I didn't get a reply. Mind you this is not unusual as I have found Economic departments to be lacking in vision and innovation throughout the various places in the world where I have spent time.
As an illustration of what I mean I did a job back in Scotland for the local Grangemouth Development Group. They had formed an organisation called chemeccose and hired a marketing manager for it on a three year contract. The purpose was to promote the area as a place to build oil and chemical plants. Essentially companies like BP Amoco, Borg Warner, ICI, etc., all had plants in the area but due to down sizing they had spare land. The idea of course was to attract other chemical companies to locate new plants.
Well in year two the marketing manager, Jonathan Drew, came to visit me as I was the largest Internet company in the area. He told me in his research that some 80 chemical plants had been built in Europe in the previous year but all in either Rotterdam or Dusseldorf and none in Scotland. When he talked to those companies he found that if they had been better informed about the Scottish situation we might have got 6 new chemical plants in Grangemouth. This would have produced some £850 million in new business. He thus wanted to highlight the opportunity.
As a result of our discussions I gave a talk to all the contractors that worked with BP Ameco telling them about the Internet and how the web and email could be of great benefit to everyone. Jonathan then went on to invite them to get involved with the chemeccose web site that we were going to build together. I arranged to host and run the web site for them for £500 a year. I felt I should contribute my time for free to my local community so the cost was just to defray domain name registration and web hosting costs.
We quickly built a very good web site and most of the contractors contributed by completing a fact sheet where they listed all their contact details both locally and head office. They listed their skill sets from a list that BP provided and so every contractor had a similar page. In addition each contractor could supply a single web page with additional information together with pictures and most did supply this. We thus had a huge amount of information available.
The next step was to add detailed information about the area. Things like emissions, list of land available for lease or sale together with specifications and pictures. The local council provided a basic page detailing the help they could offer along with the local enterprise company. We showed where the area was in relation to Europe and how the North Sea Oil was actually piped down to Grangemouth to be refined at the local plant.
We then provided a news section where the contractors could send in news of their own companies work and so we really started to build a real community. The results were most interested. We got phone calls from Investment banks in the USA and Chemical companies. We also started to get asked about the thoughts of local residents to the building of more chemical plants. In short we were really starting to develop some genuine interest and got many compliments from those banks and chemical companies about the information we had put together.
Well at the end of year 3 Jonathan's contract came to an end and about the last thing he did was to renew the web contract for another year and told me that the local Enterprise company would now take over the responsibility for providing information for the web site. I continued to post up information the contractors sent into me while trying to get the local enterprise company in Stirling to provide up to date information without success. I just never got my phone calls returned.
Anyway, at the end of the year things were still going well and I issued my annual invoice to the enterprise company for the usual £500. And low and behold I got the first contact with them... to complain this was too high and they might consider renewing if I dropped this to £250.00. Given all the work I had done for them I'm afraid I got a bit heated in my response. I then send them a credit note to cancel the invoice and told them they could take the site over themselves and gave them 1 months notice to transfer their content and domain to their control.
At the end of that month I took down the site and some 4 months later got a communication from the enterprise company asking if I still had a copy of the site. I told them I might have but I'd need to go back into my archives but would need to charge them £500 to do that. Needless to say I was being a bit nasty but in practice the site never returned.
I only detail this to show how Economic departments and local enterprise companies can actually hold an area back by not using local knowledge and not having the quality of staff needed to really provide vision and enterprise.
This local Economic Development department has done a good basic job in getting a web site together but as a company in the area you only get to add your contact details but not your email address or web site unless you pay some money to get that listed. This is really an example of lack of understanding of how the web should be used to promote an area. At the very least they should get their email address and web site listed together with at least a page of information about the company. As it stands the vast majority of listings only have the postal address and telephone number under a category of business. This in no way helps people to understand what services or products or skills that they have.
I am critical about Economic Departments in general for lack of vision and to my knowledge they all seem to be much the same when it comes to using the web to really communicate to people that might have an interest in the area. There is really a massive failure to communicate over a medium that is really the most fabulous communications tool we've ever had.
Anyway... that's my little moan for this journal entry :-)
And so it was off to the Doctor for my appointment only to find that there was an emergency and the Doctor wasn't there so had to make another appointment. Mind you I did purchase a large double double Tim Horton's coffee on the way back :-)