Well we've certainly had some snow in Chatham this month. Not a heavy fall but enough to cover the roads. I was working late one night and looked out the window and decided to try a couple of night pictures and then after playing around with them got these three which were taken from my bedroom window.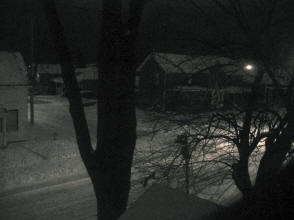 Just glad I got my garage roof fixed and so I don't need to scrape the snow off in the mornings :-)
Certainly here in Canada the Weather channel is a very popular program to watch. I took a few pictures to let you see what weather was forecast for 7th December and it shows just how big Canada is...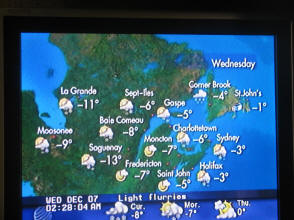 As we are in the run up to Christmas I decided I'd better get some beer for any visitors that might appear and so I headed for the Beer Store and I picked up a few new beers to try one of which was Wee Willy, a dark Scottish beer.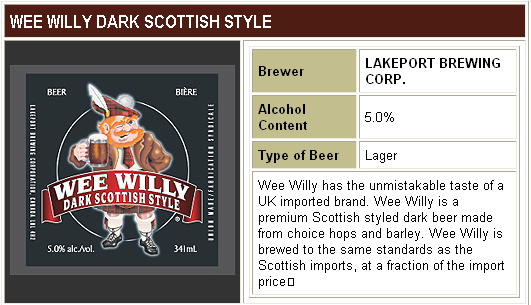 Another one I tried for the first time was Maclays Traditional Pale Ale which I found to be excellent. Maclays in Scotland was started in 1830 and this brew is done in Canada under license by Sleeman Brewing.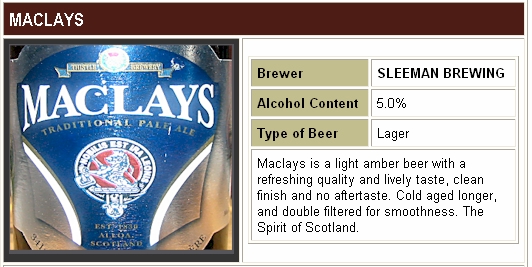 The Beer Store has some 300 beers so a great choice. That said you don't really see any Scottish beers like Tenants, McEwans, Caledonian, Belhaven, etc. Considering there are so many Scots in Canada and with some 140,000 visiting Scotland each year I am amazed not to find any of these brands in Canada although I believe Caledonian does do some Kegs. Obviously another great opportunity for Scottish brands but as always the Scots don't seem to be able to capitalise on the opportunity.
Today, 8th December, George appeared to put in my new book cases which I hope will mean I can now get the rest of the books off the floor and get my library into operation. He also fixed my grandfather clock to the wall and put up coat hooks, etc. So a few more jobs completed.
My todo list for the house is...
Get a couple of pictures up in the dining room as well as a wee display of china on the mantelpiece over the fire. That should pretty much get the dining room finished. I then need to get a fixing bracket on the foot of the half landing window so I can put up my tray of greenery. I need to get the upstairs banner rail fixed as it's still a bit shoogly. I need to get the door handles on both front and back doors fixed. These were left in the hope the floor chap could come back to refurbish the doors but he's still ill so we're just going to get them replaced. I've now got some new blinds for the three door windows so need to get them up. Also need to clear out the wee cupboard in the guest bedroom. I also need to move the floor vent in my office to get the last of my office furniture in place. Also want to get up my Saltire Flag on the outside of the house. The only other job that now needs done is to get a replacement auto-control unit for the garage door as it would make life a lot easier. So not really much more to do and hopefully will have it all done before Christmas.
I've pretty much stopped buying books for the time being as I now have a lot that are still to go up on the site. I have purchased a six volume set entitled "The Ordnance Gazetteer of Scotland: A Survey of Scottish Topography, Statistical, Biographical, and Historical". The main reason for purchasing this is to do with the description...
The work is based on the trigonometrical survey and includes a general survey of Scotland in a series of articles by specialists on its physical features, geology, zoology, botany, agriculture, meteorology, fisheries, deer forests, grouse moors, civil and ecclesiastical history, education, government, industries and commerce, roads, railways, steamships, telegraphs, and language and literature. With photographic steel engravings and maps including a complete series of the counties of Scotland and a large general map of Scotland.
This seems to cover a number of areas not covered on the site. Mind you it could be some time before it starts to go up but wanted to grab this while it was available.
I have actually been able to complete 2 more books but won't be making these available until the current ones are completed. It's actually been good to not have to go anywhere this wee while as it's let me get on with all this scanning and ocr'ing.
I've also made contact with folk from Nova Scotia in Canada and Las Vegas in the USA and we're in discussions about doing a couple of large projects but like everything else we'll need to wait to see if it can be turned into an actual project. I have always been reserving my top two graphical adverts in our header in the hope I could get a large project to work on in Canada and the USA. I want to follow the history of an area of Canada and the USA and then bring it right up to date and show what they look like today.
I was also delighted to receive a big write up in Scots Independent Newspaper. It was so large I needed to do 2 scans and then join them together and if you click on the picture you'll get a larger graphic that you can read.