George, my contractor, spent Wednesday and Thursday 21st & 22nd December finishing up the various bits that needed done. I got a new door put up on the downstairs toilet although it will need a coat of paint but at least it is now a good fit.
I also got my dining room doors put on, banister rails fixed, one door window trim completed, all doors now work properly, and my new automatic garage door installed so the remote control now works. The vent in the office has also been moved allowing me to get the last of my office furniture placed.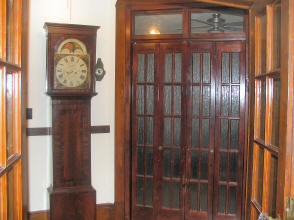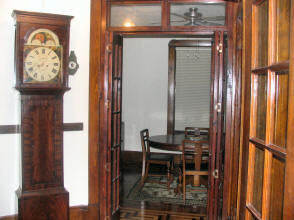 These are the dining room doors closed and open taken from my office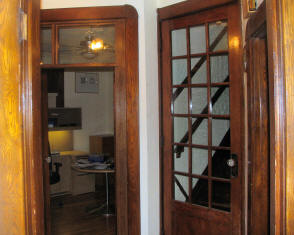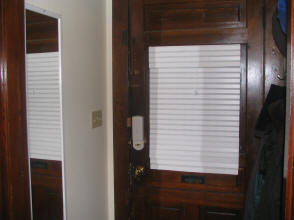 On the left is a picture taken from the sitting room so you can see the door on the right which leads upstairs. On the right is my new blind which covers the window on the front door. A similar one had been added to the window door in the sitting room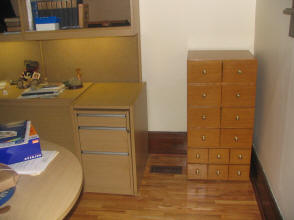 and this is the floor grill which has been moved and now my last pedestal unit fits in and my other disk and CD filing cabinet fits into the corner.
And so the house is now a home and all that remains to do is to replace the external steps on one side of the house and add an extra first step to the other steps but that will now wait until Spring when the better weather arrives.
I spent Christmas and Boxing Day in Toronto with Harold and Nola and their extended family and had a great time. For boxing day there was prime rib roast, smoked brisket, lobster, turkey, crab claws and lots more. A veritable feast :-) Alex, their son-in-law, did the cooking and as he's the head chef and catering manager at the Windsor Arms Hotel in Toronto the food was excellent.
When I got back to Chatham I was invited out on the Wednesday night for a dinner with George and his family and I got to see his farm with loads of rabbits, ducks and geese. I am told they have seven cats and two dogs so quite a place. Had an excellent meal and so with all this eating it's likely time to go on a diet :-)
When I got back I had a letter in saying my vehicle license plate sticker needed to be renewed and I found out I could do that online which saves a visit.
Looking back at all my previous entries I can see that I have many people to thank for helping me to get settled in Ontario. Larry of Ontario Business Immigration was real good at advising me about what I had to do and how to do it to get my work permits and place my application for permanent landed status. He also took time out during his busy year to visit me at my home in Chatham and we also had a meeting more recently in Guelph. Having had my medical I'm now waiting to hear if my application has been successful. Not sure how long this takes but not aware of having anything else to do so hopefully a month or so into the new year I'll hear something.
Next year I'm intending to be at the local Chatham Highland Games and also at Fergus. I also intend to visit Moultrie in Georgia, likely in March when I'll also spend a week visiting with Steve in Kentucky so | can also do some work on my servers. On April 6th, 2006 I will be attending the Tartan Day Dinner in Toronto.
I am hoping to do a major project with Nova Scotia in Canada and Las Vegas in the USA next year so am looking forward to bringing this together by the end of the first quarter in the new year.
And so it just remains to thank the many people that have emailed me to say they've enjoyed reading my Canadian Journal.
I hope you all have a Very Happy New Year and that 2006 will be a great year for you.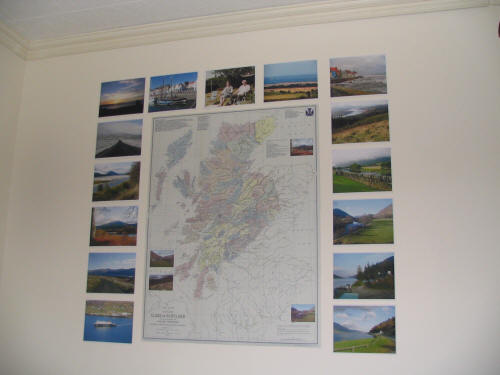 And here is my wall in the office with the clan map up with surrounding pictures of Scotland