Since getting back to Chatham I've been continuing my trials and tribulations with the scanners. Having decided to return the HP scanner as it was just too slow I got a Canon scanner and have been getting some really weird results.
I first of all phoned Canon Canada to check if it would work with adobe and also remember the last settings. I was assured it would and when trying it for real found out it didn't remember them <grrr>.
As I am on the go a fair bit I've been in the habit of scanning in pages to save as jpg files on my hard disk. I then ocr the image file as I get the time. To my surprise when I scanned in the image from the Canon scanner and saved it as a .jpg file I then found my ocr software couldn't recognise the text. I really couldn't understand that as a .jpg file is a .jpg file after all or at least I thought it was.
I tried to scan in all kinds of different ways with the Canon scanner and nothing I could do would make my ocr software recognise the text. I then phoned the Canon Canada tech support desk and they assured me it must be my ocr software to blame. Isn't it always the same... blame someone else <sigh>.
So.. just to make sure my program wasn't at fault I dug up my old Epson scanner and after fiddling around for a bit got it to work. And yes my ocr software recognised the text from the resultant saved .jpg file.
And so the Canon scanner has now going back and I was off to purchase an Epson scanner. However, no-one in Chatham seems to stock Epson scanners <even bigger sigh>.
I then went online to see if I could order one for home delivery and ran into another problem. As I have an American visa debit card I can't order a product for delivery to a Canadian address as my card is registered to my USA address <groan>. Mind you the same does apply to the USA as if ordering from them they can only send the goods to your USA billing address and so this is not just a Canadian problem.
And so after making several phone calls I ended up going to Staples in Chatham where they will order the scanner for me for delivery between 5 - 10 business days.
This sure has been a journey of discovery :-)
And so I ordered my Epson 4490 Photo scanner and low and behold it arrived in 3 business days and yes it does work a treat so now I can get better quality scans.
My Scotiabank don't issue a debit card that is also recognised as a visa card. My own bank in the USA, BB&T, do issue such a card which is a big help because I can use my debit card anywhere that visa is accepted.
I also have a USA PayPal account but there is no way for me to transfer money from my PayPal account into my Canadian bank... only my USA bank. So I thus need to transfer money to the USA account and then arrange for my USA bank to wire transfer money to my Canadian account.
I feel that banks need to be a little more flexible to those of us that move around the world.
On another matter.. I had mentioned the way I make roast potatoes and got several emails asking if I could say how I made them and what they would look like so here is a picture...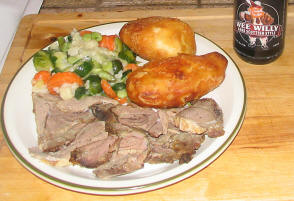 And in case you are wondering... that's cold lamb and mixed vegetables and a Wee Willy dark beer with it :-)
The way I do the roast potatoes is to boil them until they are just about done and then I put them into hot oil (deep fat fryer) at around 350f and then cook them for around another 20 minutes until they are golden brown. This gives you a nice crisp outside and a soft and fluffy inside :-)
Today, 1st March, I got a visit from Universal Power. I can sign up to "cap" my hydro power prices so when the price goes up I get to keep it at the old price for up to 5 years. I have already done this for the gas. Just so you get an idea of what this is all about here is the brochure I got...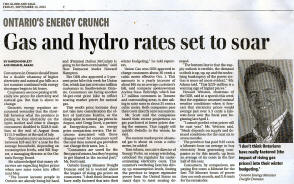 And here is an article discussing the price rises
As an aside... the young woman who visited was from Toronto and quite a character. She'd just had a tattoo done at the base of her spine and was keen to show it off after she found out I was single :-)
On another issue I note that Chatham-Kent is short of doctors and so much so that they are doing an appeal locally asking local residents to donate money to help attract doctors to the area. Here is the leaflet that came through my mail box...
And so if there are any Doctors out there who would like to re-locate to Chatham or surrounding area you can be assured that you can get wonderful homes for a fraction of the price you'd pay in other areas of Ontario and full broadband Internet services are available :-)
Tim Horton's (the famous Canadian coffee chain) are back doing their roll up promotion.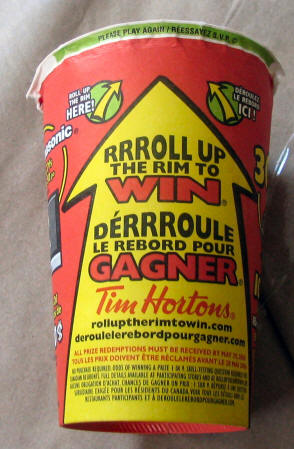 You just roll up the rim to see if you've won anything and as you can see from the above picture I didn't win anything this time around although I did win a free coffee last time and this was the free coffee I received and since then I've also won a free donut :-)
This is really a very good promotion and they seem to do it around this time of year as when I was in Toronto last year they ran this same promotion. They say you have a 1 in 9 chance of winning something.
My microwave has gone up the creek and so I phoned Tom & Al's where I purchased it and they say to bring it into them and they'll get the technical chap to fix it when he comes in on Tuesday. The microwave powers on and the turn table works... just no microwaves to heat the food.
Got a phone call in from Hugh McMillan who does a lot of genealogy research around the Glengarry area of Ontario and he's given me permission to put up two of his books on the web site. He's also going to get various other people to get in touch with me that are also doing good research work. I thus hope to be getting in lots more interesting accounts of Pioneer life :-)
You may remember that I joined the Royal Canadian Military Institute (RCMI) a few months back. I haven't actually had the time to get back to the club but am impressed with their communication with members. Each month you get their "Member's News"...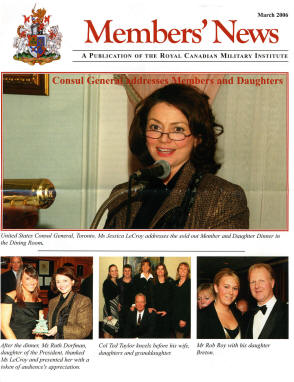 and as you can see the United States Consul General, Toronto, Ms Jessica LeCroy, addressed the sold out Member and Daughter Dinner. They have a whole host of events each month and I thought I'd scan in this months issue just to let you see the type of activity that goes on at the Institute and have created an Adobe file for you to view. Certainly if you head into Toronto it is well worth taking out a membership and they also have rooms available for anyone wishing to stay overnight.
9th March 2006