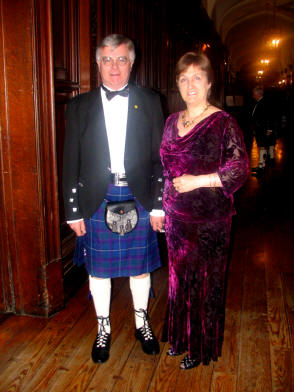 I headed off to Toronto on the 5th as I was having dinner with Ian Hudghton and his wife Lily. I have been doing Ian's web site for a few years now and as well as being an MEP (Member of the European Parliament) he has also been voted in as President of the SNP.
I thus met them at their hotel and we headed out to a local sea food restaurant where I had a steak :-)
We had a great night and it was good to hear how they were all doing.
The next day of course was the Tartan Day Dinner and the picture is of the two of them taken on that evening.
The Tartan Day dinner was where the Scot of the Year award is given out and this year it was Hugh Boyle of Zoom airlines.
I managed to get some videos and photos of the event although not as many as I would have liked. I took two sets of rechargeable batteries with me but took the precaution of buying 5 sets of Duracel batteries just in case. I did in fact need them but all I got was an average of two pictures per set of Duracels. What a total pain that was and so I sure won't be buying any more of those.
I was also hosting Linda Fabiani and her partner Duncan all the way over from Scotland. Linda very kindly brought me over a wee present of Scottish Parliament cuff links :-)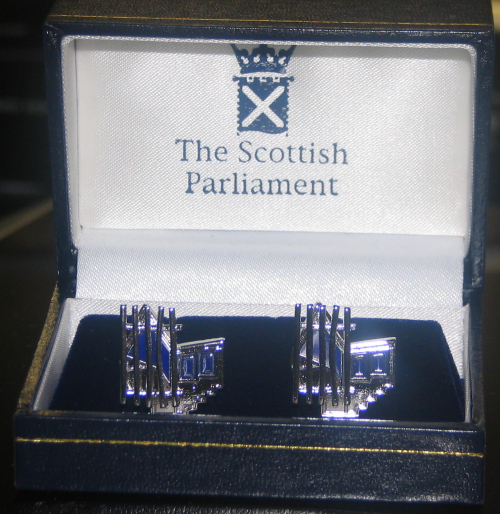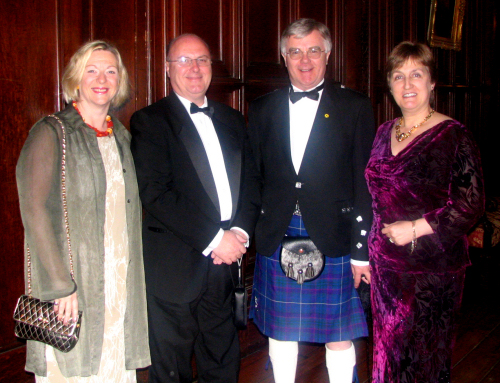 from left: Linda Fabiani MSP and partner Duncan with Ian Hudghton MEP and wife Lily
You can see the pictures and videos I took at http://www.electricscotland.com/ssf/hugh_boyle.htm
We had the Pipes and Drums to greet us on our arrival and they played both inside and outside. We then all met in the bar and conservatory for drinks and wee snacks like mini sausage rolls, Scots eggs, salmon paste on small oatmeal biscuits, etc. The Pipe band then played everyone into the room where the musical entertainment was to be held. This was a half hour of Scottish and Gaelic song and was really excellent.
After this we all headed for the dinner where there were super heather and flower center pieces for each table and those were subsequently given to the person on each table that had a birthday nearest to 6th April. A lot commented on how attractive they were.
The dinner was excellent and I noted that most people ate all their haggis, neeps and tatties :-)
We finished up with clootie dumpling and custard :-)
At the end of the dinner the award of "Scot of the Year" was given to Hugh Boyle and then it was the raffle prizes and was delighted that my friends Doug Ross and his wife Pat won the Zoom airlines flight from Toronto to Edinburgh... well done to them!

Doug and Pat Ross
I got back around 1am so I think everyone really enjoyed the event and certainly many commented about the good time they'd had. So well done to David Hunter for the organisation.
At the event I also met Michael Danso, singer, dancer and actor...
who was brought up in Scotland!!!
Here is a bit about him...
"Stunning" is the word most often used to describe Michael Danso. His amazing talent as a singer, dancer and actor have led him to be hailed as "The Complete Entertainer". Singing with symphony orchestras and jazz groups, Michael has travelled from Toronto to China and back. He has toured extensively as a singer and dancer with "Riverdance". He has acted in dramatic roles on TV and the Stage, and has appeared in hit musicals across North America.

Originally from Scotland, Michael first appeared on stage at the age of five. Ella Fitzgerald spotted him at the age of 10 and wanted to take him to the U.S. but his grandmother vetoed the idea. Michael spent the next nine years continuing to hone his talents in Scotland. Michael finally came to North America at the age of 19 performing in the hit musical "Hair". He spent 3 years in Los Angeles, then 3 more touring Japan and the Far East. He finally settled in Canada where he immediately became a favourite of audiences and media alike. He has performed in top jazz rooms, festivals, and night-clubs all across Canada and the U.S.

He has appeared as a soloist with "Riverdance", and has sung and acted in, "The Three Penney Opera", "Anna Lucasta", "The Boyfriend", "The African Roscius", and "The Mikado". His film and television credits include: "Sugar Shack", "Winning Streak", "Sharon Lois and Bram", and "Just Jazz".

No matter how busy his schedule, Michael always finds time for charitable work. In particular he loves to support The Variety Club having hosted and performed on their telethons in Toronto, Buffalo, Winnipeg, Kansas City and Los Angeles.

Michael is now concentrating on his symphonic performances and is currently booking a tour with top orchestras around the world.
You can visit his web site at www.michaeldanso.com
I'm hoping he can be persuaded to tell us a little of his life in Scotland :-)
I headed home on the Friday which, due to very slow moving traffic, took me around 5 hours <sigh>.
This being the following Monday as I write this I am only just getting back into work mode. When I returned I found a whole pile of books had arrived (Science Fiction ones) and confess to taking some time off at the weekend to read some of them. Figured I deserved a wee break :-)
This week is also a time to sort out some of my personal affairs such as arranging to get back my deposit from the Hydro folk which I had to pay being new to Canada. My house and car insurance need to be put on a monthly payments process. So busy transferring money between by USA accounts and Canada to pay some annual bills.
I note that gas here in Canada is now around $1.00 a litre.
On the work side I'm working on a bit of a site re-design as I figure it's time I got some more advertisers :-)