Not a great deal happening since the Tartan Day dinner other than working on a makeover for the site.
I have visited Toronto to attend the Knights Templar meeting and also the Scottish Studies board meeting. While at the RCMI I was told that from June 1st smoking will no longer be allowed at the club. They were showing some concern about people not wanting to renew their membership as a result.
I might add that on the non smoking issue people at the club were very annoyed as they said it was the one place that they were able to smoke while having a drink and indeed most people in the bar were smoking. I can't help feeling that people are going over the top on this non smoking issue. As buying cigarettes and cigars is legal surely there should be some places that smokers can go to have a drink and have a smoke at the same time.
From my perspective I don't see me renewing my membership as that was the primary reason for joining the Institute.
I did have a check up at my Doctor on the 25th April and they were very happy with my blood pressure and cholesterol levels but felt my blood sugar was a bit on the high side so they upped one of my diabetic drugs from 1mg to 2mg a day. My next appointment isn't until September which is the longest period between check ups that I've had since coming to Canada. I thus take that as a hopeful sign :-)
I got woken up at around 3.30am on Wednesday 26th with a siren belting out which eventually woke me up. There were at least two fire trucks and several police cars on Raleigh Street. Couldn't make out what was happening although it looked to be a fire but couldn't see anything.
I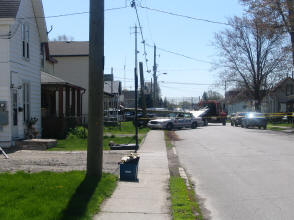 I found out this morning from a local woman that this was a police chase where the truck driver was injured and is now in hospital. The police officer was also injured with cuts and bruises.
On the business front I have been working on a makeover of the site to attract some new advertisers and the idea is to remove the google adverts to my left border and replace them with up to 2 rows of 9 micro buttons. This way I can offer advertisers a decent high profile but at a much more reasonable cost. This will also allow me to add another row to my menu.
I hope by doing this that these micro buttons will attract an interesting range of advertisers that will also become a good resource for our visitors.
I have also submitted my accounts to my USA accountants and it looks like they use trainees to do them and then pass them to a partner to overview them. I thus got in an email noting that I'd quadrupled my income and while nice to note would I please give an "executive" view to this being correct :-)
The trainee had in fact taken the balance column and totaled that as income. So where I may have got an income entry for $450.00 and the balance showed $2,300.00 he or she was taking the $2,300.00 as the income... and so no wonder I quadrupled my income <grin>
I have also got a Canadian accountant to start sorting out my Canadian taxes and looks like I won't have any tax to pay for my first part year but will have some tax to pay for the first full year here in Canada. Also filed the zero return on the Canadian company that I formed but which won't trade until I know I have permanent landed status.
I did use my own in-house software to help with the voting for positions in the Knight Templars and it seemed to end up ok although a wee hitch in the closing date... it ended one day early <gulp>.
I completed the makeover of the site and launched it on 14th May with the first 9 buttons sold. I have various people interested in the other 9 buttons but as usual it takes time to get decisions. I am trying to find companies that have a mix of offerings that I hope our visitors will find to be a useful resource. This means I am really waiting for them to decide before going out to find others so this is a bit more time consuming than I had at first thought.
My clothes drier went on the blink but the chap who fixed my micro wave came to have a look at it (17th May) and found some fluff in the motor and when removed it worked again :-) Only cost $50.00 for the repair so not bad really. I suspect this would have cost more like $120.00 if I was in the U.K.
I want to get out and about again to do more story boards but would like to get these buttons sold before taking off for parts new.
I am looking to head to Kentucky second half of June to help install a new web server and get other things done. So I may well be there for a couple of weeks. I may do a couple of side trips while I am away.
I still haven't heard about my permanent landed status and it will be a year at the end of this month that I applied. The visit to the Canadian consulate in Detroit has indicated that as I was on a fast track it could take between 6 - 9 months so as this is now well over that not sure what the hold up is. Mind you they do say this process normally takes around 18 months so guess I'll just need to be patient.