On Saturday 12th August 2006 I visited the Fergus Highland Games specifically to get some pictures of the Highland Dancing.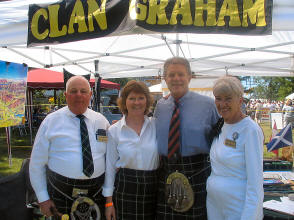 Here is the Clan Graham
Left to Right: Jim Graham of Burlington, Ontario, Kate Graham (wife of Richard Graham) from Atlanta, Georgia, Richard Graham, Chieftan of Clan Graham, Shirley Graham Fraser, Burlington, Ontario
I was actually there to take some video clips as I'd been asked if I could do a feature on Highland Dancing and so these video will go into that section of the site when I get it completed. Here are small real audio files of the dances...
Clip 1 Clip 2 Clip 3 Clip 4 Clip 5 Clip 6 Clip 7 Clip 8
I will be adding much higher quality versions of these videos on our Video Page once Google vet them and make them available. For example one of the clips above is 912k but the version I post up to Google is 56Mb. So.. if you have broadband you'll enjoy much higher quality videos.
The Highland Dancing event at Fergus is huge. I sat myself down to get some videos and half an hour later they were still giving out prizes. Some of the events seemed to go to 6th place awards. I ended up heading away for a Scotch pie and bottle of Irn Bru :-) I was trying to get hold of Elizabeth of the Highland Dancing Association but each time I tried to find her she was tied up. I also got tied up myself as I kept getting message that someone or other was looking for me. So... I guess the meeting was not meant to be at this event anyway.
I did spend some time at the Clan MacIntyre tent and was happy to see many young folk at the tent. In fact I think there were more young people there than I saw at any of the other clan tents :-)
I also chatted for a time with the Rattray's, Elliots, Ross's, MacKenzies and Graham's and I also stopped by the Scottish Studies tent.