It seems that banks are now allowing new immigrants to get credit cards. If you read my early reports when I had just arrived in Canada this was not available so that's good news as it allows you to build a credit history which is very important.
On December 23rd we registered -18º C with winds at 57km/h and wind gusts at 87km/h and got around 2cm of snow. That's very cold for Chatham. When it gets this cold it's time for a hot chocolate. I normally keep the house at 70º F but have cranked that up to 74º F at this time. We did have a second of down time on the electricity and it took some 10 minutes to restore my internet connection but other than that am coping fine. I do have enough food supplies in to take me through the Christmas holidays so no need to go out in this very cold weather.
Got my visit to the eye specialist and got my 6 weekly injection in my good eye and so far I've not had any problems. Flu is taking its toll on the population and that's down to people not getting their flu vaccine shot. Covid is still an issue but most people are not wearing masks unless they are going to a health clinic or similar establishment like the eye specialist or vaccine clinic.
On the Covid front seems that China is now having the most problems with many protests about the wearing of masks and other Covid restrictions. I have noted many YouTube channels are reporting health issues but hardly anyone mentions whether they have had flu or Covid vaccines which I suspect is the reason for their illnesses.
I have noticed that in general 90% of Canadians took the Covid vaccines but far fewer have taken the two booster shots and less than normal have taken the flu vaccine this year which seems the reason for so many children ending up in hospital.
Canada has done well on the inflation front at below 7% whereas countries like the UK and Germany were showing over 10%. I just wish that Canada had built the oil and gas pipelines to our coasts so that we could have supplied Europe with oil and gas.
Just heard there was a one hundred vehicle pileup at London, ON, today 23rd December, which is just an hour up the road from here in Chatham.
When my cleaning lady came on Boxing Day she told me that people at Walmart and the Canadian Superstore were locked in on Friday night due to the heavy falls of snow which according to her were the worst she'd seen in her 64 years in Chatham. I confess I didn't know of this until she told me as it didn't look that bad where I live. She told me they were put up in the store overnight and didn't get to leave until after 1.00pm on the Saturday. She also said she'd almost run out of food herself and due to the weather she'd had to get a friend to take her out to do a grocery run and all the shops were packed.
So she wasn't able to have the normal family Christmas as the roads were so bad and she said her daughter was in tears not being able to get to her for Christmas. The first they'd ever missed and so looks like the weather was much worse that I'd thought.
This month I got a lot of work done in my home. Lots of little jobs so now I'm pretty much up to date. I got all my shopping in for Christmas so am good to go until the New Year.
So what am I having for my Christmas lunch this year? I will be having smoked salmon as a starter then turkey with stuffing, and roast potatoes and then plum pudding and brandy custard for dessert. I will be having a bottle of Mathieu's Rose to wash it all down.
So wishing you all a Merry Christmas and a Happy New Year. Will report back in 2023 God willing. And just to note we did have a White Christmas in Chatham this year.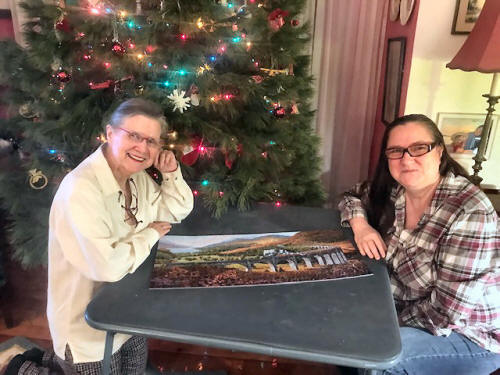 The Rev. Nola Crewe completing a jigsaw with her daughter Morgana