By Rev. William Wye Smith, St. Catharines
In 1762, on the 19th June, Archibald Campbell, of Daling, and Agnes Campbell, of Auchamore, gave in their names to be proclaimed to marriage. Mary, our heroine, was their eldest child; the eldest of eight, only three of whom lived to grow up. The other two were her brother Robert and her sister Annie. Annie was the youngest of the three. Dates and names are scarce in connection with the whole family. Mary was probably born in 1763, and would be 23 when Burns knew her. Annie's birth, as I have had it copied for me from her husband's family Bible, was 1st March, 1774. Annie married when 18, James Anderson, a young stone-mason. They had several children. Her two daughters, Annie, like her mother, named 'Mary' and 'Annie.' Some years ago, I had a number of letters from Mr. Matthew Turnbull, of Rothesay, who married Annie, the younger of these girls. Mary, the elder one, was said by everybody to be the "perfect image" of her celebrated aunt, "Highland Mary." Mr. Turnbull very candidly admitted that Annie (his own wife) did not show the same likeness to Highland Mary. This neice, Mary, married a man named Robertson. I got Mrs. Robertson's picture, but she was quite into middle age. So I further got the photos of her two daughters, and one of them, Margaret Robertson, was a striking likeness of her mother, and, though one generation farther away, being a grand-neice, of Burns' Highland Mary, I sent the late Dr. Charles Rogers a copy of this picture of Highland Mary in the third generation (it is all we can ever have), and he prized it much, and put it in the Kilmarnock Monument among other relics and mementoes of Highland Mary.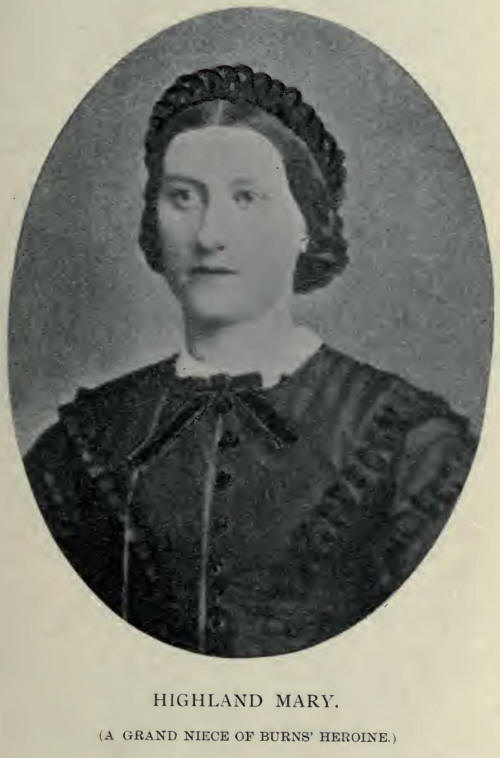 Mr. Turnbull tells me that Highland Mary's mother, when her two grand-daughters were somewhat grown up, gave each of them one of the volumes of the Bible Burns gave to Mary at parting, saying to them: "Here, lassies, ye can hae these, and when ye get married ye can sell them for as muckle as will get ilk ane o' ye a kist o' drawers." So Turnbull's wife got one and Mrs. Robertson got the other. They were both married in the same year (1828). In 1832 William Anderson, a brother of these girls, was emigrating to America, and he got his sisters to give him the Burns Bibles for £5 each. One of them had in it a long lock of Mary's golden hair. He promised "they never should go out of the Anderson family!" And but for that promise, Mr. Turnbull wrote me, "He could never have got them."
William Anderson was a mason. He wandered about Canada and the United States and finally married and settled down on a bush lot in the township of Caledon, Ontario. Here, in his own words, "he got to his last two-and-sixpence," and wrote to the late John C. Beckett, of Montreal—whose acquaintance he had made on the voyage out, and whose sister his brother Robert had married—''If it would be wrong in him to sell the Burns Bibles?" Mr. Beckett's answer was to go to Mr. Weir, then the Editor of the Montreal Herald, Mr. Rollo Campbell and other Scotsmen, and among them raise $100, which Mr. Beckett sent to Anderson, assuring him the Bibles and. lock of hair should be secured for the use of the public. They were sent to the Provost of Ayr and finally deposited in the relic chamber of the Doon Monument in 1841, where countless thousands have seen them.
Mr. Turnbull wrote me, that when he saw this (about the Bibles) in the papers he could hardly think it was correct after the promise William Anderson had made, and so ''he and the wife made anceerrand to Ayr to see them." But they knew the relics the moment they saw them. ''They were satisfied," he said.
I have not the least doubt that in the summer of 1786, when Mary had gone home to Argyleshire for the consent of her parents to her marriage Burns wrote much and often to her. Mr. Turnbull wrote me that his wife told him (she had it from her mother, Mary's 12-year-old sister) that after Mary's death the father burned everything connected with Burns. ''And," writes Mr. Turnbull, ''my wife told me there were a great many things burned." A Scotsman will never burn a Bible, and the two volumes of this pocket Bible were spared.
And ''sister Annie" used to sing songs to her children, which were in some of those letters to Mary that summer and which were not in print. Motherwell tried to recover these and got some of them from William Anderson, the Canadian emigrant, (as he heard his mother sing them), but Motherwell died a few months afterward, and none know whether they were utilized.
It seems to be established that Burns and Mary parted on the 14th May, 17S6, and that she died at the very end of October in the same year. She died of fever in Greenock and her grave is there. Many of the most interesting dates and particulars were first given to the world by Robert Chambers. The late Sir Daniel Wilson, of Toronto University, told me that he obtained much of this information for Chambers.
With regard to the question "What did Highland Mary look like?" one of her grand-neices wrote me ''It is only by remembering what my mother used to say that I know. Highland Mary was rather tall, fair complexion, light yellow hair, blue eves, quite retired, of gentle, amiable disposition." All through the family connection runs the full, rounded chin with a slight dimple; long, rather than short, reminding one of the Empress Eugenic in her best days. A rather long, straight nose, the classical rounded jaw, the peculiar eyelids falling down over the eyes with no wrinkles at the corners and with scarcely a crease, the fair hair combating the darker Anderson tint even in the third generation, and the flashing of the eye as seen in Margaret Robertson's picture.
Mary was no doubt a singer. Sister Annie used to sing Burns' songs and no doubt Mary. And when people have been ''brought up" on Gaelic, we always notice a little softening of the English vocables. "Margaret" is the most common name in Scotland, and "Mary" comes next, and where there would be so many "Marys" it would be the most natural thing- in the world to call this one ''Highland Mary," without any disparagement in any way intended by the term —just by way of distinction. It is not necessary to suppose Burns invented it, though he certainly glorified it!