ALEXANDER FRASER [1860-1936]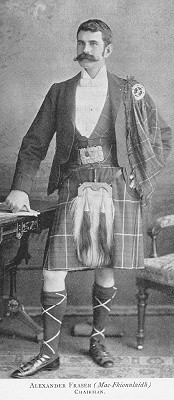 When Alexander Fraser left Scotland in 1886, he could not have known that he would become a leading historian and a prolific author who would devote his life to promoting the interests and culture of the Scottish community in Canada. Educated at Inverness High School, Davidson's Classical Academy, Perth and Glasgow University, where he received his M.A., the son of Hugh and Mary (Mackenzie) Fraser came to Canada on the recommendation of Sir Charles Tupper, to take up a position on the editorial staff of the Toronto Mail (later the Toronto Mail and Empire). He also served as editor of the Scottish Canadian, Massey's Illustrated, Presbyterian Review, and Fraser's Scottish Annual.
In 1889 Alexander Fraser married Christina Ramsay, daughter of Dr. Samuel Ramsay of Toronto and his wife Jessie Fraser, daughter of James George Fraser and Chistina MacLeod of Galt, Ontario. Alexander and Christina Fraser had nine children, two of whom died in infancy. The letters to his wife and children during his many absences contain vivid commentary on his travels, concern over their welfare and advice about household matters.
During a 1994 interview, his daughter Shelagh recalled the wonderful ceilidhs she had watched as a child, and the continuous stream of visitors including Mme Alice (Fraser) Prevost ( a descendant of Lt. Malcolm Fraser of the 78th Fraser Highlanders) and Archbishop McNeil from Nova Scotia (one of the few outside the family to call her father by his first name). She showed me the rare book Huronia (1909) on the history of the Jesuits, authored by her father (a Presbyterian), for which he was awarded a medal by the Pope.
Alexander Fraser organized the Gaelic Society of Canada in 1887; was its first Secretary, for many years its President. He was a key organizer of the 48th Highlanders of Toronto in 1891; the revival of Clan Fraser Society in 1894; and the Toronto Historical Society, of which he was President. He served as President of the Sons of Scotland Benevolent Association for 12 years and as President of St. Andrew's Society of Toronto. He assisted in placing 426 families from the Highlands on Canadian Free Homesteads without cost to country or to settlers.
Colonel Fraser became the first Archivist of Ontario in 1903 and continued in that position until his retirement in 1935. He served as Honorary ADC to the Lieutenant-Governor of Ontario from 1914 through 1932 and was an Honorary Lieutenant-Colonel of the 127th York Rangers. He was one of the charter members of the Empire Club, a Past Master of St. John's Lodge, A.F. and A.M. and later an officer of the Grand Lodge. He was a notary public, a justice of the peace, and special representative for the Province of Ontario at the International Exposition at Havana, Cuba in 1924.
He edited or authored numerous books, papers and articles including the 2 volume History of Ontario; Huronia; Brock Centenary 1812-1912; The Last Laird of MacNab; History of the 48th Highlanders of Toronto; The Highland Regiments at Quebec; District of Hesse, U.C.; The Clan Fraser in Canada; Simon Fraser, the Discoverer of the Fraser River; and many others in English and Gaelic.
Copied from Clan Fraser Society of Canada web site with permission.
---
These articles are taken from the 1900 - 1904 issues of Fraser's Scottish Annual...