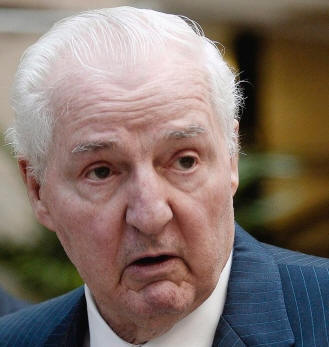 Paul Desmarais, one of Canada's most powerful businessmen and a self-made billionaire who befriended prime ministers and presidents, has died.

Demarais, who transformed an ailing family-owned Sudbury bus company into a $33-billion conglomerate that straddled the world, was 86.

His family said in a statement that he "died peacefully surrounded by his loved ones." He died at Domaine Laforest, the family's sprawling estate in Quebec's Charlevoix region.

The family said it will hold a private funeral and will later announce the date of a public memorial service.

A shrewd entrepreneur and acquisitor, Desmarais was the long-standing CEO and chairman of Montreal-based Power Corp., the industrial and financial juggernaut, from when he took control in 1968 until well after he handed over its day-to-day management to his two sons, Paul Jr. and Andre, in 1996.

With an estimated personal net worth of around $4.4 billion, he was ranked the seventh-richest Canadian by Canadian Business magazine in 2012, and continued to draw a salary as chairman of Power Corp.'s executive committee.

A key member of Canada's financial elite, Desmarais was a friend and patron of a series of Quebec premiers and at least four Canadian prime ministers, from Pierre Trudeau to Brian Mulroney, Jean Chrétien and Paul Martin.

Snapshot of power

Financial: Great West Life Assurance, Canada Life, London Life, Investors Group, Mackenzie Financial Corp.

Media: La Presse and six other Quebec and Ontario dailies, Workopolis, La Presse Tele, independent TV production.

Industrial: Through Pargesa holding company, large interests in cement-maker Lafarge, the Total oil and gas group, Imerys industrial minerals, GDF Suez electricity and gas

Both Mulroney and Martin worked for Power Corp. in the early stages of their business careers, and Desmarais's son Andre is married to Chrétien's daughter France.

The announcement soon after his death that Quebec's legislature, the National Assembly, would pass a motion honouring Desmarais on Wednesday morning underlined the clout he had among the political elite and his importance in Quebec society.

But Paul Desmarais's political and business connections stretched well beyond Canada.

For example, in 2008 he was presented with France's Grand Cross of the Legion of Honour - a distinction rarely given to outsiders - by President Nicolas Sarkozy, whom Desmarais had befriended a decade earlier when Sarkozy was down on his political luck.

Throughout his career, but especially in his later years, the interview-shy Desmarais was a big supporter of charities and educational institutions. He was also the founding chairman of the Canada China Business Council.

But it has been his close friendships with politicians that have often been the subject of media scrutiny.

In a profile in Maclean's magazine in 2006, journalist Peter C. Newman tackled the question of how Desmarais used his influence.

"To hell with people who say I do it for political favours," he told Newman during an interview in 1998.

"It has been a great advantage to say, 'I know the prime minister of Canada, and I know what he's thinking,'" Desmarais said.

At the same time, "I always thought that I couldn't impose on political figures and ask them to do something for me and still be a friend of theirs, that if I was going to render any service to my country, I could do it by giving these guys my policy positions," he said.

According to Michael Pitfield, who was the powerful Clerk of the Privy Council under Trudeau, and would later joined Desmarais' Power Corp., "most people assume Desmarais' public-policy involvements are designed to make him richer, that he tries to control people and events to get some desired and selfish result.

"In fact, he's an active participant, using his power base to press for what he thinks are desirable policies," Pitfield told Newman.

A fast riser

Desmarais was born in Sudbury on Jan. 4, 1927. His father was Jean-Noel Desmarais, and his mother Lébéa Laforest.

His sharp business sense may have been inherited, because his grandfather was Noel Desmarais, the first merchant and a successful businessman in the town of Cosby, southeast of Sudbury.

Eventually the town was renamed Noelville and is now part of the Municipality of French River.

Desmarais has said he learned most of his English in the pool halls of Sudbury. He graduated from the University of Ottawa with a bachelor of commerce degree in 1949 and went on to study at Osgoode Hall Law School in Toronto, but left without graduating.

In 1951, he returned to Sudbury to run the family-owned Sudbury Bus Lines, which was failing at the time. Getting it back on its feet, he went on to take over Gatineau Bus Lines, just across the river from Ottawa, then Quebec Autobus in Quebec City in the late 1950s.

In 1953, he married Jacqueline Maranger, and they had four children, Paul Jr. (born 1954), André (1956), Louise (1959), and Sophie (1962).

By then he had made enough money to move his family to the City of Westmount, the exclusive enclave for the well-to-do in the heart of Montreal.

In 1961, he continued his bus line acquisitions with the purchase of Provincial Transport in Quebec.

He began branching out in 1964 when he bought Gelco Enterprises, an electrical utility in Hull, Que., and in 1965, he bought his first conglomerate, Trans-Canada Corp. Fund (TCCF), which had an interest in Montreal's La Presse newspaper and would soon come to own Imperial Life Assurance.

In 1968, TCCF made a share-exchange offer with the Power Corporation of Canada, headquartered in Montreal, which led to Desmarais becoming the new chairman and CEO of Power.

The Power years

He remained CEO of Power Corporation until 1996, when he made his sons Paul Jr. and Andy (as he calls André) co-chief executive officers. But those who followed the corporation closely said there were no big decisions made without his approval.

From 1996 on, Paul Sr. was still chairman of the executive committee of Power Corp. Its principal subsidiaries now include Gesca Ltd. (publisher of daily and weekly newspapers) and Power Financial Corporation (owner of Great West Life, London Life, Canada Life, Putnam Investments, IGM Financial, Investors Group and Mackenzie Investments).

Power Corp. is also a big stakeholder in several large European holdings, many of whom are global leaders, such as Pargesa Holding S.A., an international investment group based in Geneva, Switzerland, which controls cement-maker Lafarge, the Total oil and gas group, and Imerys industrial minerals.

Until recently, Desmarais sat on the boards of several companies -- most linked to Power Corp. -- as well as Groupe Bruxelles Lambert S.A. He was founding chairman and honorary president of the Canada China Business Council and chairman of the board and managing director of Pargesa Holding S.A. for several years

Though his sons were running the day to day operations since 1996, Desmarais was still making major decisions for the company, at least until 2008 when he was slowed by a stroke. Failing health kept him from all of Power Corp.'s board and committee meetings in 2012, though according to the company he continued to monitor its activities and consult on important decisions.

He attended just two of nine board meetings in 2011 and four of six in 2010.

Since the stroke, "he would not any more be the leading light in doing anything significant at Power," said longtime friend Peter Munk, chairman of Barrick Gold.

"From a succession point of view, this recent setback came at the right time," Munk told the Globe and Mail in 2009. "I am exceptionally impressed by those two boys — in every respect."
Electric Scotland Note: This write up came from CBC News.