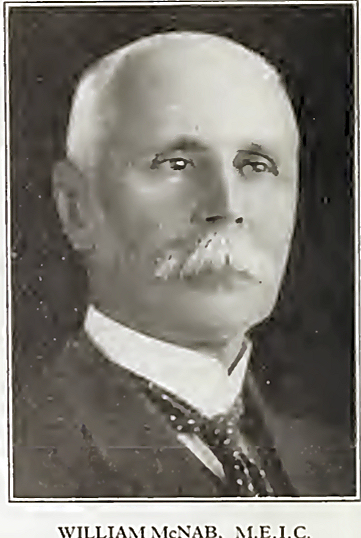 Profound regret is expressed at the death of William McNab, m.e.i.c, of Montreal, one of the most widely known members of The Institute, at the Montreal General Hospital on February 23rd, 1923, after an illness of six weeks. At the time of his death, Mr. McNab was chairman of the Valuation Committee of the Grand Trunk Railway System, having been with the system for over half a century. He had been a resident of Montreal since coming to Canada in 1870, and had a great many friends and admirers in private life as well as in engineering and railway circles. The funeral was from his late residence, 25 Essex Avenue, Montreal, on Monday, February 26th, and among the very large number present were many officials of the railway and representatives of engineering profession.

Mr. McNab was born at Irvine, Scotland, and on his arrival in Canada entered the service of the Grand Trunk Railway at Montreal, in 1870, as draughtsman, being then in his fifteenth year. In 1887 he was appointed chief draughtsman and nine years later, in 1896, assistant engineer. In 1907 he became principal assistant engineer, in 1916 valuation engineer, and in 1918 chairman of the valuation committee. His standing in his profession led to his being chosen for important offices in the various engineering associations, both in the United States and Canada. He was elected a director of the American Railway Engineering Association in 1905, and after holding the office as second vice-president, first vicepresident and chairman of many committees, he became president of the association in 1908, and was re-elected to that office in the following year. In 1910 he delivered the address of welcome to the president of the United States, William Howard Taft, on the occasion of the convention of the American Railway Engineering Association, at Chicago. His work in the interests of the engineering profession in general, and railway engineering in particular, was most valuable. The specifications for roadbeds adopted by the railways of this continent, were contained in his report presented as chairman of the committee on roadways of the American Railway Engineering Association. He was a member of St. Andrew's Society, a pastpresident of the Caledonia Society, and an honorary life member of the Montreal Amateur Athletic Association.

Mr. McNab was one of The Institute's earliest members, having been elected Member on February 3rd, 1887.

He was always keenly interested in its activities and for nine years, from 1891 to 1899 was librarian; and for two terms, 1900 and 1907 he served on the Council.