WE will begin right where we sit to talk of the real mines. It will be like talking of the folks down home, since it may be called a home mine—so many Ottawans are there in it.
I have never before noted the absolute necessity of a company being run with scrupulously honest care as since coming to Cobalt. An honest, wise and careful directorate can take a mining property, which had been passed over by hundreds of prospectors, and bring it out one of the great successes of the camp, whilst a first choice may be purposely managed to death.
Not until the latter part of 1906 was the lake that lies along the east side of built-up Cobalt looked upon as of enough value to stake, while prospectors had gone miles away to take up claims which have long since been abandoned as of no value. When Cobalt Lake was offered for sale by the Government, it dawned upon so many that beneath its waters lay a vast deposit of silver, that $1,085,000 were bid for it, and that too by some of the best business men in the country, who figured that with the greatest mines in the district surrounding it, this deep basin must contain fabulous wealth. Others said: "It may contain silver, but lying beneath a deep lake, it will not pay to go after it." These latter had not taken into account the men at the head of the purchasing company. Men are they to whom the difficulties of the "others" are but ordinary business propositions. And so it is being proved. They chose a-manager who knew but to accomplish, and a mining engineer to whom the sinking and drifting under a lake was a simple thing.
Depth of Cobalt Lake
The first thing to do was to find the depth of the lake and the formation of the bottom. This they learned and made a chart of it. This chart shows the depth for every 66 feet to be about forty feet of water, and a deposit of about the same down to the bed rock.
Having a shore line extending back 33 feet from high water mark, they began sinking shafts, first by hand and later by the most approved machinery; with compressed air power for driving the drills, they have sunk one after another until they have now started on the seventh shaft. These, in their order, have reached 20, 48, 20, 162, 100, 106, 20 feet, and north shaft 70.
Having sunk, they purpose drifting and making a network of tunnels all throughout—far below the bottom of the lake, just as though it were but ordinary ground. From shaft No. 6 they will go under the south end of the lake, to catch theTvalu-able veins known to run out from the McKinley-Daxragh mines, and by tunnels connect the other shafts, catching veins on the way.
They Have Found It
The "Others" said: "We could have had that lake, but we did not want it." They would like to have it now! Yes, they are honest enough to admit their error. And why not? Even while getting ready to mine, so much silver has been dug that the value has been proved, and yet the great ore bed has scarce been touched.
The Indians Knew
Long years ago the Indians used to tell how that they found their silver trinkets beneath the water. They would never say where that water lay. They had a superstition that misfortune would follow should they give its hiding place. From the casual description given by wandering bands, many think that Cobalt's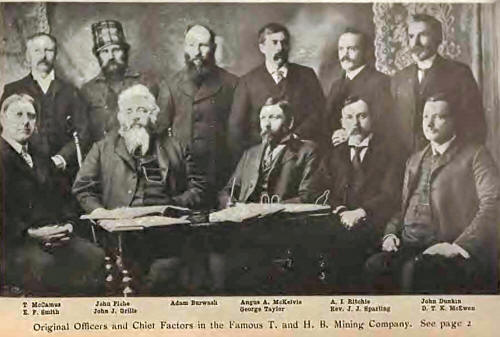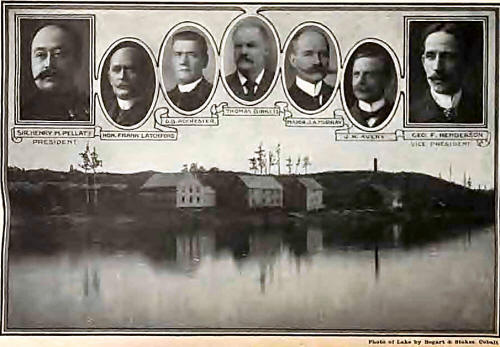 location was known to them, and doubtless from this very lake's borders came many of those trinkets, for scarce had the company begun work along the east shore when silver was found.
A Diversion of the Camp
Last winter, I am told, it was one of the diversions of Cobalt to cross on the ice, every few days, to see some new find made by the company, as the work went merrily along. Among the finds are fine samples of "wire" silver that are beautiful enough to enthuse the breast of other than an Indian. But what is a greater proof of a body of ore, lying far beneath the lake, is the continual finding of great masses of melted silver, as though in the aeons ago, this metal, having filled the surrounding crevices, had poured in residue into this deep depression, from which a wise engineering skill is to wrest it for the enrichment of those whose faith is strong enough to await the proof.
Cobalt Lake Mining; Co. Officers
The officials of the Company are the following: President, Sir Henry M. Pellatt, of Toronto; Vice-President, George F. Henderson, of Ottawa; Secretary-Treasurer, G. F. Morrison, Toronto. Directors: Hon. Frank Latchford; Thomas Birkett, ex-M.P.; Gordon C. Edwards; D. B. Rochester, Managing Director (all of Ottawa); '.Britton Osier, and Major J. A. Murray, of Toronto; and J. H. Avery, of Detroit, Mich. Engineer in charge of work, E. L. Fralick, Belleville.
The Plant
The Cobalt Lake have one of the most complete plants in the district. The buildings are large and well built. These are an office, dining-room and kitchen, bunk-house that would be a good model for many a hotel. In the spacious power-house are two 100 horse-power boilers, a 15-drill air compressor, from which run out pipes to convey the air to all parts of the mines. A private electric light plant furnishes light to the buildings and mines.
History of the Mine
When Cobalt's history shall have been written, no chapter will compare in uniqueness with that of the Cobalt Lake Company. See the rapidity of its formation. On November 22nd, 1906, the first official announcement was made by the Government that the lake would be sold, and that the tenders would close on December 20th,—less than one month away. There was no time for any sort of an organization among capitalists, so a popular syndicate was formed and when the subscription lists were collected it was found that almost 700 had subscribed an average of about $1,800 each—the larger number, of Ottawans. At the first meeting of the subscribers, Messrs. Geo. F. Henderson, Thomas Birkett and D. B. Rochester were appointed to deal with the matter, the last-named of whom had been active from the start, having long known of the property. These gentlemen went to Toronto, where several hundred thousand dollars had been subscribed. At a conference with Sir Henry Pellatt and Britton Osier, the two syndicates were united, and the amount thought to be necessary to bid in order to secure the property was decided by each of the conferees writing an amount upon a slip of paper. When these slips were collected and an average struck, the sum was found to be $1,085,000, which was bid and the lake secured.
The company was quickly formed, capitalized at $5,000,000, of which $4 ,000,000 was to be issued at once, and each subscriber given three shares for each dollar of his subscription. It was decided to issue $400,000 of treasury stock for development work and other necessary purposes. Most of this was taken up at 85 cents a share by the members of the syndicate. To do this, not a line of advertisement was necessary.
When the 85 cents were bid, it was all a vague prospect— now, months after, when the property is showing greater values than were looked for, the stock has dropped to a point so far below, that to buy at present prices is like gathering money in with a shovel. Remember, as you read this a few months hence, that "I told you so." I speak with all confidence, fori have gone down to see.
Later.—No. 4 shaft, that started in nicolite, has run into native silver, showing up to 925 oz. The first shipment has just been made (Jan. 1908). It was 50,828 lbs. of high grade ore.