PREFACE
DID you ever think that the first you read is the last the author writes? We never know what a book is to be, and cannot know until it is. As Patrick would say— "we never know what we are going to write until we have written it."
In May of 1907, Cobalt to me was a name—now it is a reality, and, believe me, "reality" may well be placed in italics. If I am an enthusiast on the subject, it is with reason, and I am honest in saying, that the most glowing accounts of it but feebly convey what Cobalt really is. Even during the months I spent in the camp, prospect after prospect turned to mine, and mine to shipper. I passed the Gillies Limit with a "calcite" jest, only to find it a "shipper," after the jest was in printed page. That is the one advantage of a Preface—you can take it back before the book reaches the hands of the critic, and thus discount his sting.
Two days ago, Feb. 28th, the most famous mining law suit of the Camp was ended. For years "The Lawson Vein" was in litigation. It passed from court to court (see page 30), through many tedious trials. But this ends it, and I have got to record the ending even it I have to put it in the "Beginning." Tom Crawford lost and John McMartin won.
I trust that no one will get the impression that I think all of the 949 Coleman claims and the hundreds outside will become mines. That would be impossible, and I would wish no one to be misled. I do say that there are many great mines in Cobalt, and many more prospects that must yet become rich shippers. 1 have named of each a very, very few. Some of the richest have but hardly noted in passing—some of their owners being so modest that they wished not to be mentioned. Like the Quakeress, modest and humble—and enormously proud of it.
I am indebted to so many for courtesies and favors, that a bare list would turn Preface into a long chapter, and they must take the "will."
To the newspapers and journals I owe much, especially so to The Silver City News, of Haileybury, and The Canadian Mining Journal, of Toronto From the columns of both I gained much valuable data. You too are indebted to this great Mining Journal, for many of the beautiful illustrations are here through the kindness of its people. It was their wish that the Camp— which already owes it so great a debt—should be shown as it is, and nothing so illustrates as pictures of the real.
In subsequent editions (which must follow, since the first is all but gone before it leaves the press), many new features will be added. New pictures, other mines, a fund of stories and incidents of the Camp; and sketches of other characters who have figured in its early history and subsequent growth. No features of more interest will be than "How it was Discovered" and "The Rapid Successes of Cobalt", In which, will appear many discoveries, incidents and biographical sketches, familiar to the old timers. In short, the most interesting features of any book—again letting Patrick tell it—"are the things not in it." They will be in the next, if the readers of this will but add individual mine incidents to my already large collection of the general camp life. With many a "thank you" to Cobalt, and to that great Northland, and with sweet memories of a delightful sojourn among their kindly people, I am,
Most sincerely,
THE AUTHOR.
Toronto, March, 1908.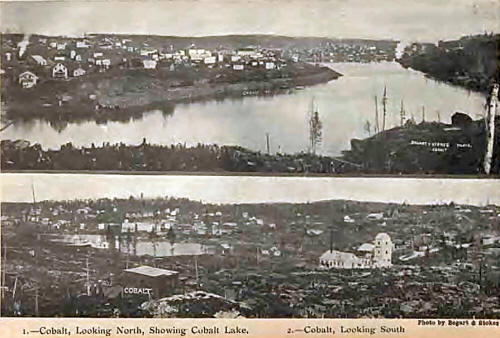 Contents
The Real Cobalt
Cobalt Lake and its surroundings
The Cobalt Lake Mining Co., Ltd.
The City of Cobalt Mining Co. Limited
The Nancy-Helen Mines Limited
Some other Lakes
Romance of the Camp
A Cluster of Good Ones
Casey Mines
Elk City - The New Cobalt
The Larose Mines
Cobalt - Canada's Wonderland
Where to Stay when you get there
Haileybury
Murray City
Toronto - The Queen City