AS showing the values in Casey Township, another mine in this locality has recently been sold in London for $1,000,000. It is the Casey Mine, discovered on the John Bucknall farm. IJe was the first man to discover cobalt bloom in this section. This was followed by the discover}- of silver by W. S. Mitchell, one of the most enterprising young men in the whole Cobalt district. Mr. Mitchell, a representative of a great banking house of London, came to Canada two years ago, and has already become identified with some of the most valuable properties in Northern Ontario. He is one of the few who are never satisfied to follow in the track of other prospectors. He must ever lead. He and his unique band of prospectors were the first to find mineral outside the beaten track. He found gold in Playfair Township a month before Dr. Reddick made his famous discovery at Larder Lake. His Town site Mine, in Cobalt, was the first Cobalt mine to be listed on any of the great exchanges of London, New York, etc. They were first to discover silver in Casey, and among the first to discover silver in the surveyed part of James, up the Montreal River. The story of the hardships of his band of prospectors, while up this wild river, is a most entertaining one, as may be seen further on in my own story of this young man.
He is a great organizer. It was he who organized the Elk Lake Silver Mines, Limited, with large holdings in James. Another of his enterprises is the Oposatica, and Chibogamoo Exploration Company, now exploring the mineral lands of the Province of Quebec. His Airgiod Co. has among its members some of the most prominent Scotchmen in Canada—many being members of the Dominion Parliament, Senators, and successful men of affairs.
Mr. Mitchell has other valuable properties in Coleman, not yet organized.
Being a resident of Haileybury, he is taking a most active interest in the upbuilding of this Wonder City of the North, which such as he are making to grow with marvellous rapidity, as may be seen in my chapter on "Haileybury."
Mr. Mitchell's Montreal River Finds
As above, Mr. Mitchell's party were among the first to prospect, successfully, in the surveyed part of James.
By reason of the personnel of the men composing this party, it is doubtless the most unique among prospectors of New Ontario. There were Jack Munroe, who once made matters so interesting for big Jim Jeffries; Joe Acton, champion lightweight wrestler of England; Jack Hammell, the cosmopolitan humorist, and clever writer; Tom Saville, "The White Indian," a noted guide; and Mose, "The Hungry Indian." Later the party was joined by surveyor Charles Fullerton, of New Liskeard, and Neil Sharpe.
The Diary of the Two Jacks
I was shown the diary kept by Munroe and Hammell. In it was a graphic account of their first trip up the Montreal. It tells of the hardships they endured while searching for silver claims. While Munroe gives the serious side, HammelFs sense of humor crops out in every line, making his part of the "log" a most entertaining chapter. He might be half starved and yet could laugh at poor Hungry Mose's Oliver Twist-like calls for "More! More!" He might be all but frozen and yet smile at Neil Sharpe's frozen ears—taking out the stings with his laughter.
It was in the dead of winter. On the last day of December, 1906, they ran out of provisions. Latchford was the nearest point at which they could replenish their store—and Latchford 55 miles away! The tossing of a penny decided who should make the return trip. These were sent by the penny: Jack Munroe, Acton and Saville, leaving Jack Hammell to look after Mose-the-Hungry.
As soon as the return party had gone, Hammell took up the diary. He started in with a resolution to begin the year without drinking. Next day he writes: "Am still on the water waggon." Munroe said afterward: "No wonder, for we had taken what little there was left."
Jan. 1: "Been chasing six-hour-old moose tracks all day. First I lost the Indian, then lost my fool self. Somebody had side-tracked the scenery. Think I must have walked 1,000 miles before I located the camp."
Jack did a bit of snowshoeing one day. "Crust just hard enough to let you break through and enable your shoes to sneak underneath, so as when you go to lift your foot you bring a ton of crust along with it. As for going down the hills, I generally slide them. To-day I flopped and then dived them. First your feet break through, then the dive starts. I am champion acrobatic hunter. Oh, if only the 42nd Street bunch could see me now, they sure would laugh! This woods life is the only life! Great for people with strong backs and weak minds!"
A day or two later Jack laments: "No food in sight yet! If the boys don't soon come we'll have to stew up the moccasins and snowshoes. Indian says, 'Him hungry!' That Indian is always hungry! Can't blame him, though, to-night—have almost forgotten how to eat, myself. Oh for a look in at Del-monico's with the boys! This woods life is so different—No, can't blame the Indian!"
From famine to feast! Munroe and party got back the next morning, and Hammell is said to have got off the " water waggon " before nine.
Munroe takes up the diary, and tells of the hardships of the 55 miles return to Latchford for supplies. They ran out of all food but a little bannock (Indian bread), which they had to divide up between the three.
The Squirrel Chase In the Cabin
One night they stopped in an old lumber camp in which a squirrel had locatcd. After a long chase around the big room, Jack caught it. The other boys claimed that Jack called lustily for them to "come quick and help me hold it." But the boys do say lots o' things about big, good-natured Jack. The only thing they could get to cook it in was a tobacco can they found. A little corn meal—very old—was also found, and with it and the squirrel, a tasty broth was made. For the squirrel they cast lots for the parts, and sat down to a contented feast.
"Shou Me the Mon 'Oo It Me With a Brick!"
At another time, when the whole party were together, they were sleeping in a lumber camp with a dozen or more lumbermen. It is the custom, in very cold weather, to sleep in their clothes—boots and all. To preface this story I must tell you that Tom Saville had a dog that had a way of crawling in among the sleepers to keep warm. He crawled in with Jack Hammell this night—as Jack thought. Jack was sure of it, for he could feel the dog's hair rubbing against his face. Now Jack did not object to the dog sleeping with him, providing he slept at the "foot," but he drew the line at "the head," and especially his head. "Get out, you beast!" said Jack, and emphasized it with his fist. Imagine his surprise at having Joe Acton jump up, with a loud yell, and as he pranced around the cabin over the sleepers, wanting to know: "Wough, hl'm 'it! 'Oo 'it me? Shou me the mon 'oo 'it me with a brick!" But everybody was asleep, and Jack Hammell was snoring loudest of all, for he respected Joe's reputation of being able to look after himself. Joe related his night's experience next morning, and was surprised that nobody should have known of it. "Didn't you 'ear me, Jack? W'y, you were right next me!"
"Never heard a sound! I sleep tight when once I start," said Jack, with the faintest sort of a smile.
The weather was bitter cold along about Jan. 13th. The diary says: "Very cold. Neil's face froze several times. We had to watch each other all the while to keep from freezing."
Many Valuable Claims Staked
With all their hardships they returned with many valuable claims staked. Some of them will turn out to be great mines, as the work already done indicate wonderful things to come.
That was but a few months ago. They were among the pioneers of many thousands of prospectors who have gone into the Montreal River country. Where was then a wilderness, is now a busy camp, with towns springing up, and before the year is out, much of the valley from Latchford to the height of land will be looked upon as an " Old Camp," so rapid follows improvement in a mining country.
I must not leave out one of Jack Hammell's best. It's one that the boys tell on him. It happened just before they returned from Latchford with the supplies. He and Mose were down to the bottom of the "barrel," and were both pretty hungry for meat. As they sat around exchanging experiences, Jack started in.
Jack Makes a Good Shot
"Oh, I didn't tell you, did I? Well, Mose hasn't spoken to me all day, just because I batted him one with a hunk of tree. It was this way: I goes for a pail of water this morning, and, coming back, I spies a big, voluptuous partridge right up in a tree, just in front of the tent, so I calls to Mose, 'Hey, Mose,' says I, soft like, ' grab something and come quick, there's a great big partridge up this tree. It's meat for us, if you're a good shot.' So Mose he grabs a stick of wood and steps out of the tent. 'Now be careful,' I tells him, 'and don't breathe heavy, and when I counts three, let loose at him.' Old Mose he sets himself. You'd have thought he was gettin' ready to fight a grizzly by the look on his face. But somehow things didn't go just right. Old Mose he couldn't hold himself, for when I got to the 'Two' count, it was all off. Mose couldn't wait any longer. He just had to take a swash at him, and me, Mr. Simp, not wanting to be out of it, took a clout at him on the fly. Missed him, of course—that is, the bird, but not the shot. No, Mose he grabbed it right below the belt. Well, you should have seen that Indian's face—the hurt look he threw at me! He immediately sat down and commenced hugging himself with both hands. He wouldn't even notice me. In fact, it was some little time until I could get Mose to sit up and take notice to anything. Finally he stopped loving himself, got up and sauntered away, muttering something about some people being—poor shots, which was an injustice to me, for if ever a man made a pretty shot it was me, with that hunk of tree. It just goes to show, though, how dense some Indians are. They never seem to look at things in a broad-minded light. Sometimes I think that Mose's mind must be bad, otherwise he wouldn't mind a little thing like that."
Later.—Poor Mose is dead—died late in the fall—shortly after my trip up the Montreal, of which I shall tell you further on. I met Mose at Elk Lake City. I had thought him the typical, high cheek bone, tall, blanketted and—well, the picture-book Indian. He was so different that I could scarce believe that the well-dressed boy I saw at Elk Lake City was the same as he of whom I had heard so much—Poor "Hungry Mosel" Hungry no longer.
Coomstock Lode to be Surpassed by Cobalt
But to return to Mr. Mitchell. He has made a deep study of the situation in the Cobalt Camp. "Look at that," said he, during one of my interviews with him. " That, " was the United States Mineral Report. The particular part to which he called my attention was the world-famous Comstock Lode of Nevada. "Now see," said he, "up to 1900 there was taken out $203,636,-062.84 of silver. It took 40 years to take this out, and they had to go down 3,300 feet to get it. The greatest year was 1874—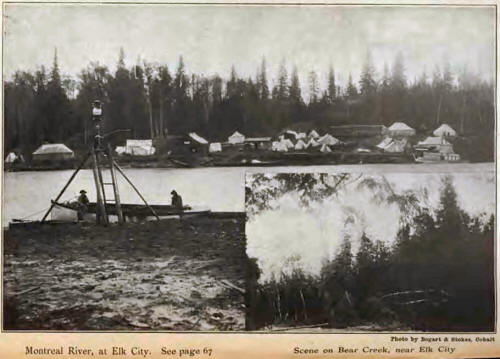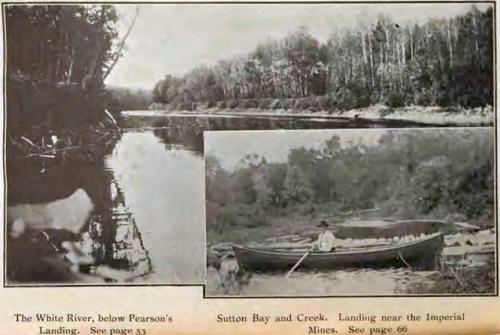 the fifteenth from its start in 1859—when the production was $21,780,922.02. Now follow. This will be equalled, in 1909, by the Cobalt district, the fourth year after machinery was installed." I could scarcely realize this, but when he showed what is being taken out from the mines now shipping, and with such mines as the Cobalt Lake, Nancy-Helen, North Cobalt, and a dozen others, now almost ready to start in as big shippers, I had to admit the correctness of his prediction. Only to-day, I visited a mine, and watched the men bagging ore at the rate of a carload every twenty-four hours. Marvellous! And again, wonderful, this story of Cobalt and its fabulous wealth of silver.
Later.—They struck a rich vein in the Casey, just as this goes to press, that runs 5,300 ounces of silver.
THE IMPERIAL LARDER LAKE AMALGAMATED MINES
This Company, with head office in New Liskeard, Ont., whose low capitalization and large holdings of 43 well-selected claims, in the rich parts of the Larder Lake district, and in the townships of Boston, Catherine, and Harris, must become one of the successful mining enterprises of the country.
It has had assays of $1,354 in gold, with good showings of copper and silver, in their township claims. Its capitalization is but $250,000, with shares at par $1. Only enough of which will be sold to develop the properties, and not run as a stockjobbing enterprise. The high standing of its officers and directors is a guaranty of honest management.
I have not seen their other holdings, but I have visited their mine in Harris Township, and from it judge the carefulness of the company. These are in the joining concessions to the Casey Mines, recently sold in London for $1,000,000, and the $5 par 9hares of which have already reached above $7. The formation of the rock in exactly the same as the Casey, and is growing richer as they go down.
The officers and directors are all successful business men of New Liskeard, and have gone into the matter as an honest business enterprise: President, George Weaver, Real Estate Agent and Mining Broker, and Vice-President of the Temiskaming Telephone Co., Ltd.; Vice-President, R. G. Zahalan, hotel proprietor; Secretary-Treasurer, G. W. Weaver. Directors: Frank Loudin Smiley, Barrister; Henri Loudin, Business Manager; J. H. Obrien, Contractor; W. J. Yates, Merchant; and W. E. Kerr, Government Inspector of Roads.
Solicitors: Hartman and Smiley. Bankers: Imperial Bank of Canada.