Well I did manage to move into my house on 9th May but the cable company went to the wrong address on the 10th and after a bit of a row they said they'd do their best to get things installed on the 11th which they did.

On the evening of the 9th I headed out to do shopping as I knew I'd likely be tied up all day on the 10th and I certainly filled a shopping cart getting all the base food in. They even gave me a hand out with it all. I then headed to the LCBO (Liquor Store) and then the Beer store. So by 9pm that night I had been provisioned with food and drink and various things like garbage bags, wishing up liquid, etc.

The 10th was a frustrating day having to wait in for the cable people. At 16:15 I decided to phone them only to be told that they had appeared at the house but no-one was in [sheesh]. I got a bit heated I have to admit and after talking to the supervisor she arranged that someone would call in the next day but again that 8-5 thing. It appears their people went to the wrong house!

Anyway... I was busy on the 10th getting more stuff put away and trying to re-organize my kitchen so I could find things and for that matter reach them. I figure I won't be able to reach the top three shelves unless I have a step ladder!

The fridge and cooker are all working fine although I noted the floor lamp wasn't working but my builder, George, fiddled with it and got it working. While the TV and everything had been delivered I was still down a hi-fi unit and my one chair. They have lent me a chair until my one arrives which they think will be next week. Also they weren't able to test the TV as I had no cable so that was another job to check.

I did open up my wee portable hi-fi unit only to discover that it didn't have a cassette player. So back onto the phone with Tom & Al's and they agree it is the wrong model and will be ordering up the correct one for me.

on the 11th the cable folk arrived and got me onto the Internet and plugged into the digital cable TV service. Of course after the tech person left I found that I had to spend some time with their tech support folk to get my service switched on. That was a bit of a problem as once it was switched on I still couldn't get anything on the TV. Their tech support folk then decided that it must be the TV to blame... it's always the other guy in these situations [sigh]

And so it was back to Tom & Al's and they are sending someone out tomorrow morning to get it all configured. And as it happens the telephone isn't working either so someone from Bell is also coming out tomorrow to get that working. So.. hopefully by tomorrow I'll be fully operational.

Today 11th, George, my builder, brought his wife over and she worked with me to measure all the windows for blinds and then we headed away to buy them which we did. Once back we discovered that one of them was faulty so had to go back up at night to change it. So this evening I am still without any window coverings but hopefully this will be the last night where I feel I am in a fish bowl :-)

George is working on the bathroom and almost finished. New toilet, new sink, new floor, new extract fan and new ceiling. Only the sink left to go in.
The house has now mostly been repainted with just a few wee bits still to do.

The wooden floors have all been sanded and poly something or othered and have to say they look fantastic. The chap is coming back to do the outside doors and the stairs. Today they also pressure hosed down the outside of the house in preparation for painting.

I was also shown how to work my heating system and air conditioning. I haven't a clue if I'll remember it all but at least it is set up for the right temperature. Once it gets hotter than 72 degrees I just click the switch over to "cool" and the air conditioning will come on. I'm told that if I made it any lower it would likely be on all the time and cost a fortune.

They did a very good clean up on the back garden for me and got rid of a lot of mess that was there and also a bit of clean up on the front. I will need to get a lawn mower for the front bit of grass as that really needs done.

The trees have been trimmed back so they don't touch the roof and that's also allowed the Hydro cable to have proper access instead of being pushed by a branch. The Hydro wanted to cut down the tree! [sheesh]

I also got my first bills in for Gas and Telephone so needed to get the first checks off for those and arrange for standing order payments. Also got a survey in for the local authority which also needed to be completed. So.. all that done.. just need to find the post office tomorrow to get them posted.

I am still trying to make sense of the rubbish collection system but I dare say I'll figure it out eventually.

I also found my way to the Office Depot place and ordered a printer but seems my luck was out and they didn't have one in stock so they are ordering one from another depot which should be here in 3 working days although the chap said likely Monday which really meant more like 5 working days so we'll see what happens.

So that's about it... I have taken some pictures of the house which I show below so you can see the work they've done on the painting and floors.

Tomorrow it will be back to work on the site between all the other things I need to do to get settled.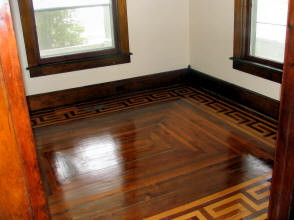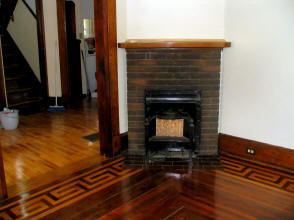 This is intended to be the dining room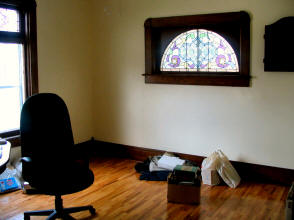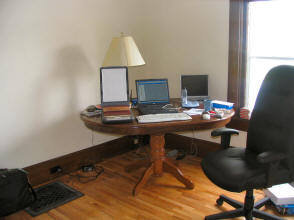 Dead chuffed with my new floors and in the above picuture you can see my new computer desk on my new office :-)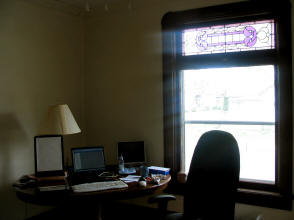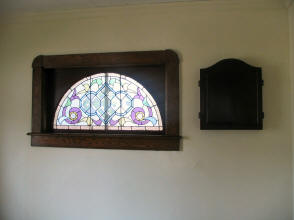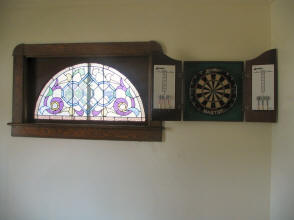 And a great shot of my stained glass window and my new dart board :-)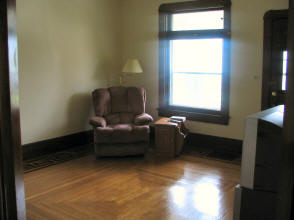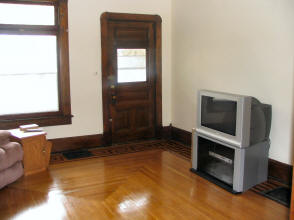 My single chair and TV set which in my living room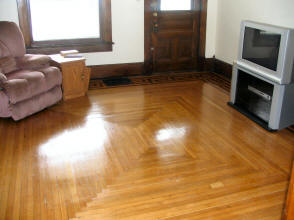 OK.. just showing off my floor! [grin]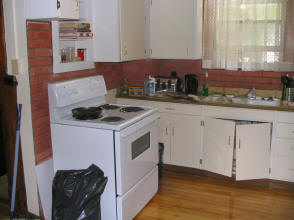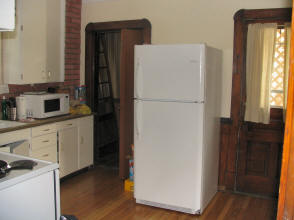 And here is the kitchen with the fridge, cooker and microwave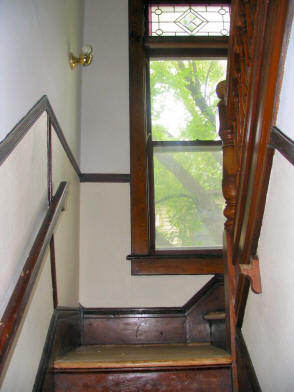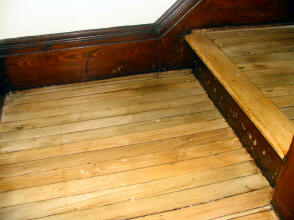 The chap will also be doing the stairs but did do the first landing so you can see how it will look when finished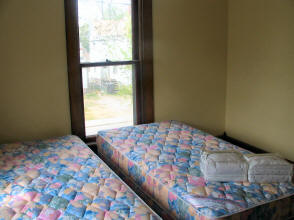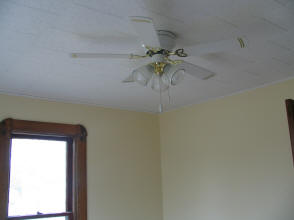 This will actully be the library but as there was no room in the guest room the beds are in here until it gets cleared out. You will note however that there are beds for guests :-)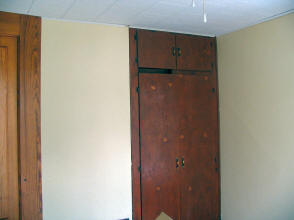 This is the wall that I am building a bookcase along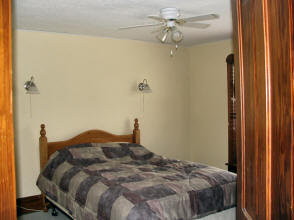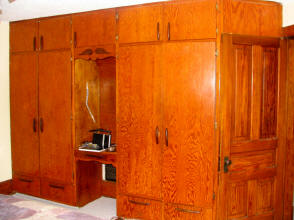 The master bedroom! I do have a couple of good tables coming from Scotland which fit in here nicely.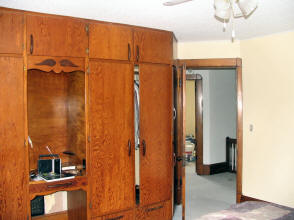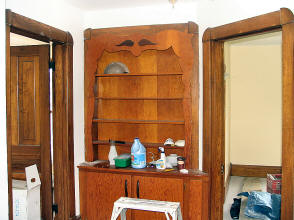 It's nice to have a clean painted look to the house. You might even say a blank canvass. I do have a number of paintings coming from Scotland which I think will look good on some of these walls.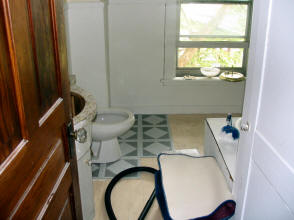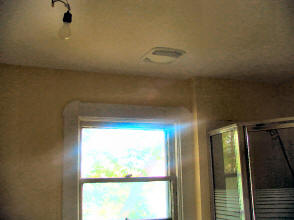 As you can see the new floor is starting to go down and the extract fan is already installed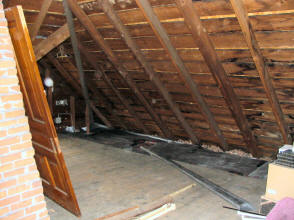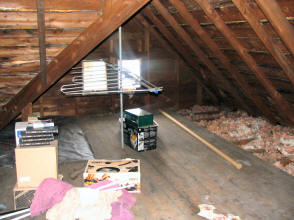 As you can see the attic is still to be finished but a useful place to store some of my stuff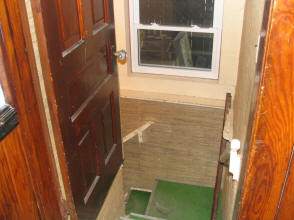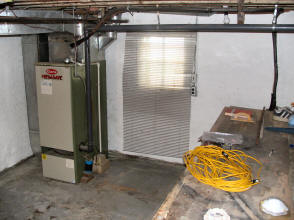 And down to the basement which has also been cleaned out and painted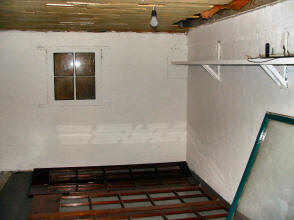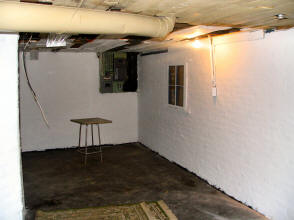 I still don't really know what I cam going to use the basement for but dare say I'll come up with some ideas once I'm settled.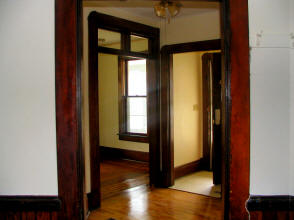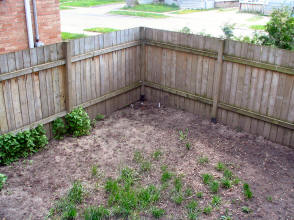 And then outside to see that they have done a good job of cleaning up the garden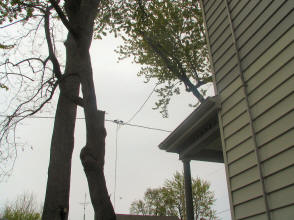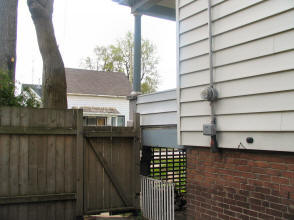 And the Hydro line now clear and the utilities on the outside wall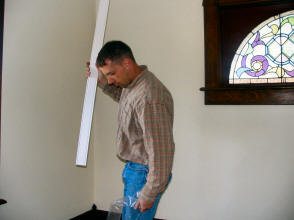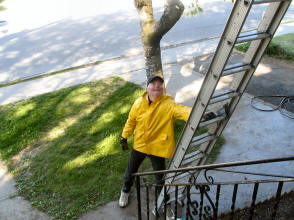 On the left is Johnny who is mainly an electrician but as you see also does blinds and even mows the laws! On the right is Junior who was washing down all the sidings and external woodwork and guttering in preparation for it being painted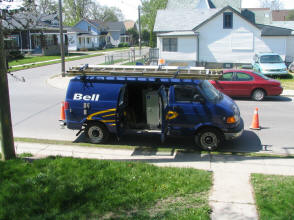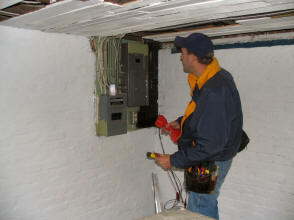 And here is the Bell engineer to fix the phone system which is now operational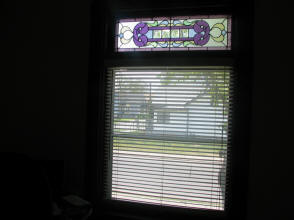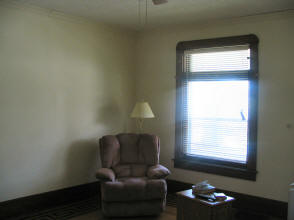 And you can now see the blinds have been going up

And this is George Molson, Master Builder, who is in overall charge of getting my house together :-)
You might compare these pictures with the ones I took when I first came to look at the house
The main difference so far has been the removal of all wallpaper and having all walls painted. Virtually a new bathroom with ceiling, floor, toilet and sink replaced and an extract fan added. Floors have been sanded and cleaned and stairs will be done next week. Several ceiling fans added or replaced and kitchen cupboards painted. Furnace upgraded and basement cleaned up. New blinds up on the windows. Some woodwork done with a a bit more to do. Like the doors are to be sanded and cleaned. The garden and garage have been cleared out. So that's about it at the moment. The externals have been cleaned in preparation for painting with some gutters being replaced and also the garage roof. So we're getting there. I do need to arrange the kitchen a bit better and of course things will look more homely when I get my stuff over from Scotland which is a couple of months away.