Here we are making an attempt to explore the history of the First Nations. At this time we can but use antiquarian resources to tell their story but we'd be more than happy to bring this more up to date should any of Canada's First Nations people wish to provide information for the site by way of text, pictures or videos.
As you read the early history of Canada you'll find that the First Nations people fought for the French against the British while others fought for the British against the French. They were also involved in fighting for Canada in the war with the USA. And of course many also fought for Britain in both World Wars. This means as you explore the history of each Province you'll come across many accounts of the First Nations people.
In this section of the site we're bringing you more specific information on the First Nations as we find it so do also feel free to contact us if you have information to contribute. We would add that in here we show information on the First Nations, Métis and Inuit.
Our Home on Native Land - Wikwemikong
A special one-hour documentary on the First Nations Reserve of Wikwemikong. Located on Manitoulin Island in Georgian Bay in Ontario, Wikwemikong is one of Canada's largest reserves with a population of over 7,000. Many in the community are scarred from the legacy of residential schools, and unemployment and drug abuse are high, but there is a concerted effort made within the community to improve their lives.

From Statistics Canada
We bring you some recent statistics from Statistics Canada which tend to show that Aboriginal peoples living on Reserves are worse off than their counterparts living off reserves. In particular the First Nations people seem to do worse that the Métis and Inuit.
Aboriginal population surpasses the one-million mark
A total of 1,172,790 people identified themselves as an Aboriginal person, that is. North American Indian (hereafter referred to as First Nations people in this report), Metis or Inuit in the 2006 Census of Population. The census counted 976,305 Aboriginal people in 2001 and 799,010 in 1996. There were nearly 700,000 First Nations people identified in 2006 as well as approximately 390,000 Metis and just over 50,000 Inuit.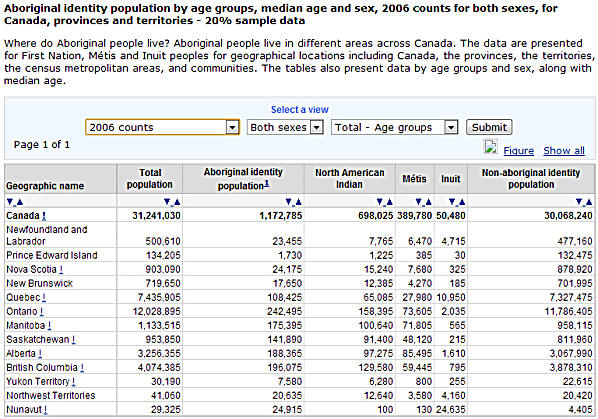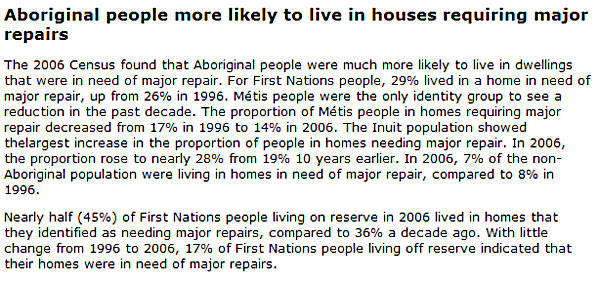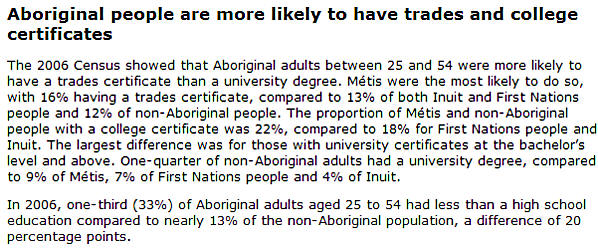 Ghost Dance - Native American - Power Drums - Spirit Pride

Fast paced, heart pounding beat. Ghost Dance by Apurimac III Nature Spirit Pride and beautiful art photos by J.D. Challenger, Frank Howell, and Howard Terpning.
Understanding Aboriginal Identity
Understanding Aboriginal Identity explores the complex issue of self-identification for Aboriginal people. Today, Aboriginal identity remains inextricably linked with past government legislation and the continued stereotyping of Aboriginal people in the media and Canadian history. From a Metis farm in rural Alberta to the offices of Canada's leading scholars, Understanding Aboriginal Identity examines the factors that shape who we are.

Indigenous and Northern Affairs Canada [external link]
Indigenous Services Canada [external link]
A List of First Nations Tribes can be found here [external link]
Portal: Aboriginal peoples in Canada [external link]
First Nations in Canada (pdf)
Inuit (pdf)
Aboriginal Affairs and Northern Development Canada
AANDC is one of the federal government departments responsible for meeting the Government of Canada's obligations and commitments to First Nations, Inuit and Métis, and for fulfilling the federal government's constitutional responsibilities in the North.
Assembly of First Nations
The story of the Assembly of First Nations (AFN) is one that remains unknown to most Canadians. It is the story that is lived each day by the First Nations peoples of Canada. It is the story of a struggle for self-determination and human dignity. It is a story that must be told.
The Métis Nation of Ontario
Prior to Canada's crystallization as a nation, a new Aboriginal people emerged out of the relations of Indian women and European men. While the initial offspring of these Indian and European unions were individuals who simply possessed mixed ancestry, subsequent intermarriages between these mixed ancestry children resulted in the genesis of a new Aboriginal people with a distinct identity, culture and consciousness in west central North America – the Métis Nation.
Bear Witness: a film by BC's Coastal First Nations

Inuit Tapiriit Kanatami (ITK)
Is the national Inuit organization in Canada, representing four Inuit regions – Nunatsiavut (Labrador), Nunavik (northern Quebec), Nunavut, and the Inuvialuit Settlement Region in the Northwest Territories.
My own first impressions of the First Nations
By Alastair McIntyre
Books by John McDougall
His books are all about growing up in Alberta and surrounding areas when his father was a missionary to the local Indian Tribes. It is said he could speak 2 Indian languages before he could speak English. One of his books Wa-pee Moos-tooch or "White Buffalo", The Hero of a Hundred Battles is a tale of Life in Canada's Great West During the Early Years of the Last Century.
Sketch of the Esquimaux found in the Territory of Boothia Felix
This is an extract taken from the book "Appendix to the Narrative of a second Voyage in search of the North West Passage and of a residence in the Arctic Regions during the years 1829 - 1833" by Sir John Ross, Captain of the Royal Navy.
Canadian Savage Folk
The Native Tribes of Canada by John MacLean M.A. Ph. D. (1896)
Our Treaty History
Bkejwanong Territory, Walpole Island First Nation
Part Qallunaaq
From Hudson Bay to the Firth of Tay Searching for My Scottish Grandfather © by Zebedee Nungak. Also added a variety of Inuit videos.
Handel's Messiah
A production by the Inuit people. This is a video production on YouTube.
The Treaties of Canada with The Indians of Manitoba and the North-West Territories
By Alexander Morris
The Four Kings of Canada
This is an old book printed in 1710. Such is the date that at this time the letter S was printed as the letter L and so it may be a wee bit challenging to read but I think well worth the effort.
Annual Reports of the Department of Indian Affairs
The Native Races of North British America
By W. D. Hambly
Delaware Nation
Information on the Delaware Nation, previously called Lanapi and also resident in Kent County, Ontario in Moraviatown.
Origins a history of Canada Part 1 a new world

Origins a history of Canada part 2 The First Nations

Sioux Nation
Information on the Sioux Nation in the US and Canada.
The Aboriginies of Canada
This is a chapter from the book "The Dawn of Canadian History: A Chronicle of Aboriginal Canada" by Stephen Leacock
Cree Nation
Information on the Cree Nation.
An Account of Conferences held, Treaties made
Between Major-General Sir William Johnson, Bart. and various Indian Tribes.
Iroquois Nation
Information on the Iroquois in the US and Canada
A Treatise on the Six-Nation Indians
by James Bovell Mackenzie
Handbook of the Indians of Canada
By the Geographic Board of Canada (1913)
Nanook of the North - Canadian Inuit aboriginals

Early Documentary (1922) on the Inuit of the Canadian Arctic
Ojibway
Information on the Ojibway in the US and Canada
Micmac
Information on the Micmac mostly in the Atlantic Provinces of Canada
The Métis Nation of Ontario
Information about the Métis Nation
Illustrations, Manners, Customs, and Condition of the North American Indians
With Letters and Notes written during eight years of travel and adventure among the wildest and most remarkable tribes now existing with three hundred and sixty engravings from the authors original paintings by Geo. Catlin. in two volumes (1857).
Canadian Aboriginal History: "Did You Know"?
A video series.
First Nations Taxation
This is an interesting account about the taxation issues concerning First Nations
Solutreans Are Indigenous Americans
A video documentary
500 Nations The Story of Indian Americans
This is a 2 part video.
First Nation's Treaty History in B.C., Canada
Nanook of the North (1922)
Classic Documentary, silent movie.
Algonquin People
An overview
The Historical Relationship Between The Canadian Justice System and Aboriginal People (pdf)
By Associate Chief Judge Murray Sinclair To the Aboriginal Justice Learning Network Constituency Group Meeting Elders-Policy Makers-Academics Ayler, Quebec April 16—18, 1997
Truth and Reconciliation Commission
The story of the abuse caused by sending native people's children to residential schools.
The Historical Relationship Between The Canadian Justice System and Aboriginal People
By Associate Chief Judge Murray Sinclair (1997)
Old Man Stories
By Frank B. Linderman. A collection of legends keeping as near as possible to the Indian's style of story-telling, and using only tales told by the older men of the Blackfeet, Chippewa, and Cree tribes.
The War Chief of the Six Nations
A Chronicle of Joseph Brant by Louis Aubrey Wood (1914) (pdf)
Caldwell First Nations
First Nations band government whose land base is located in Leamington, Ontario
Indian, Metis and Eskimo Leaders in Contemporary Canada
This collection of 15 biographies was prepared to illustrate, for classroom purposes, some of the well-known contemporary Indian, Eskimo, and Metis people in Canada today.
Foreign Missions of the Presbyterian Church in Canada
The Indians of Western Canada by Andrew Browning Baird (1895)
First Nations, Metis and Inuit Education Policy Framework
Alberta Learning, Edmonton (2002) (pdf)
Monograph of the Déné - Dindjié Indians
By the Rev. E. Petitot, Oslay Missionary, translated by Douglas Brymner (pdf)
Fort Chipewyan
Two books on the area.
The Six-Nations Indians in the Province of Ontario (pdf)
Indian, Metis and Eskimo Leaders in Contemporary Canada
This collection of 15 biographies was prepared to illustrate, for classroom purposes, some of the well-known contemporary Indian, Eskimo, and Metis people in Canada today. (pdf)
Mound Builders
Xwelíqwiya
The Life of a Stó:lo¯ Matriarch
The Men of the Backwoods
True stories and sketches of the Indians and the Indian Fighters by Ascott R. Hope (1899) (pdf)
Aboriginal peoples in Canada
Key results from the 2016 Census
2016 Canadian Public Opinion on Aboriginal Peoples
Canadian Vanishing Communities
Cultivators and Traders of the Eastern Woodlands by Winifred Ferry. This book is about a Huron family who lived in the Eastern woodlands of what is now Southern Ontario. It describes the main activities of this family during one year. No longer do the Huron live as they once did. This book will help you understand how these cultivators and traders lived in the area known as Huronia. (pdf)
Ancient Aborigional Trade in North America
By Charles Rau, reprinted from the report of the Smithsonian Institution for 1872 (1873) (pdf)
Voyages and Travels of an Indian Interpreter and Trader
Describing the Manners and Customs of the North American Indians; with an account of the Posts situated on the River Saint Laurence, Lake Ontario, &c. to which is added a Vocabulary of the Chippeway Language. Names of Furs and Skins, in English and French. A list of words in the Iroquois, Mohegan, Shawanee, and Esquimeaux tongues and a table of the Anology between the Algonkin and Chippeway languages by J. Long (1791) (pdf)
Canadians of Long Ago
The story of the Canadian Indian by Kenneth E. Kidd (1951)